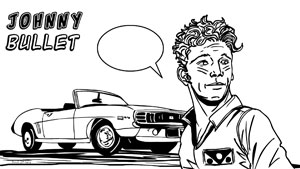 Comics News
The Red Trunk Re(butt)al
By Andy Frisk
August 12, 2011 - 23:35
I've made it quite clear on how I feel about the dropping of Superman's red "underwear on the outside" trunks from his new costume design, and the image below should make it explicitly clear why they should have been kept, but, of course, I'll elaborate for my readers.



Forgive me for stooping to tween textspeak but..WTF? How much further can Superman be degraded? Hopefully this is just an inside joke in response to the talk surrounding the function that the red trunks, in relation to Superman's skin tight suit, are supposed to serve, i.e. keeping Superman modest and respectable. Maybe this is another attempt at humor from DC Comics much like it was rumored that the insanely anatomically impossible massiveness of Power Girl's bust size was. With Wonder Woman being stripped of her pants again and Superman's butt being put on display, how much more asinine, yes that's an intentional pun and I had to axe at least ten others from this short article (you're welcome), can the DCnU reboot get?

Okay, maybe I'm being a bit harsh. Some of the DCnU stuff looks good, if not overly interesting, and, like I've also said, I want to see it succeed. I just don't get some of the decisions being made over at DC right now.


© Copyright 2002-2019 by Toon Doctor Inc. - All rights Reserved. All other texts, images, characters and trademarks are copyright their respective owners. Use of material in this document (including reproduction, modification, distribution, electronic transmission or republication) without prior written permission is strictly prohibited.