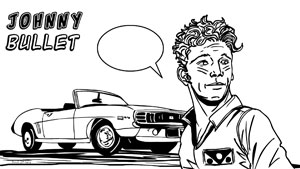 Marvel Legends
Marvel Toys Lost on Marvel Legends
By Hervé St-Louis
January 6, 2009 - 19:46
In January 2006, Marvel Entertainment and Hasbro announced a deal that would grant the latter a five-year license to making toys based on Marvel Entertainment properties, such as Spider-man and the X-Men. The agreement began on January 1st 2007. Prior this Marvel Toys, a division of Marvel Entertainment formally known as Toy Biz, produced successful toys based on Marvel Entertainment's characters. Toy Biz produced the Marvel Legends and Spider-Man Classic series of action figures that were very popular with collectors and children prior the takeover by Hasbro.

Hasbro has taken over where Marvel Toys left off, but collectors have not been as satisfied with the Marvel-based action figures the manufacturer has produced. Collectors find the quality of the toys and the moulds lesser than Toy Biz. Also, Hasbro charges a lot of money for toys that are inferior for what the average Marvel Legends action figure used to retail for. Character selection has been weak. The smaller line introduced by Hasbro has been welcomed by collectors, but many have not jumped on the bandwagon, avoiding to start a new collection and reduce expenses.

Meanwhile, Marvel Toys has gone after the licenses of other comic book properties and made Marvel Legends-like calling the new line Legendary Comic Book Heroes. Although the quality of the toys was the usual Marvel Legends grade and the selection of characters wide, this series has proven unpopular with fans had the third release scheduled to be released in later December 2008 has been cancelled.

The deal Marvel Entertainment signed with Hasbro afforded the former a lot of money. Marvel Entertainment was promised $205 million in license fees and service fee payments. The risk of producing the toys was no longer with Marvel Toys, but with another partner with far more experience in selling toys and a larger market share and better distribution channels. For Marvel Entertainment, it was a no brainer. It's unclear, though if the deal provided Marvel Entertainment with more or less income than if it had to produce its own action figures.

Those who have been left behind, in the transaction, are the legion of collectors who worshipped Marvel Legends and Spider-man Classics toys. Hasbro just doesn't have the wow factor that made a lot of grown men, me included gaga over action figures. Hasbro really seems more interested in merchandising movie-related toys such as Hulk and Iron Man, which is closer to the target market it usually serves, families.

Meanwhile, a vigorous after market exists for the Marvel Legends action figure line with collectors furiously looking for older releases in auction sites and retailers across the nation. Perhaps Marvel Entertainment will not renew the deal with Hasbro and allow Marvel Toys, a company that seems to have lost its ways, since the end of its main cash cow and the Lords of the Ring action figures. The worst that can happen at this point, is for Mattel to get the Marvel Entertainment licence!
© Copyright 2002-2021 by Toon Doctor Inc. - All rights Reserved. All other texts, images, characters and trademarks are copyright their respective owners. Use of material in this document (including reproduction, modification, distribution, electronic transmission or republication) without prior written permission is strictly prohibited.