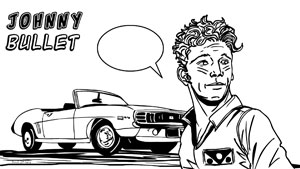 Comics News
Comic Book Creator Frank Miller Doesn't Like #Occupy
By Hervé St-Louis
November 15, 2011 - 03:11
Cartoonist Frank Miller known for his work on

Daredevil

,

Batman

and creator of

300

and

Sin City

has lashed out on his blog against the #Occupy movement calling them "a pack of louts, thieves, and rapists, an unruly mob, fed by Woodstock-era nostalgia and putrid false righteousness." He compares the protesters supporting the #Occupy movement anarchists wielding iPhones that can't work and threaten the United States of America.

Miller's blog post, one of the few on his Website frankmillerink.com coincides with the recent launch of his latest comic book

Holy Terror

which he describes as propaganda in retaliation to the events of September 11, 2001. Miller writes "I'm too old to serve my country in any other way. Otherwise, I'd gladly be pulling the trigger myself." He also views the concept of journalistic objectivity as a twentieth-century myth.

Miller's blog post has incited several condemning responses on his blog and elsewhere from readers of his past work. Miller's work has been revered by many over the years and has always been considered the core of the grim and gritty era of comic book in North America that saw a gradual shift to more adult tones and greater violence and ambiguous heroic characters, contrasting with the stark pure good and gaudy villains of past eras. Miller's work has served as the core influence of the reinvention of the first Batman film franchise in 1989 and the recent reboot from 2005's

Batman Begins

.

Miller's political views have been described as conservatives and supportive of the establishments by bloggers responding to his posts on his Website. Others have hinted at a veiled fascism throughout his work and compared it with the work of equally opinionated comic book author Alan Moore. Whereas Moore's work seems to be counter-establishment and some of his work from

V for Vendetta

has even been borrowed as a symbol of #Occupy, Miller's work makes no statement about society as a whole and seems ultimately more individualistic. Whereas in Moore's work, such as

The Watchmen

, V for Vendetta, protests from common people is seen as a valid concern and a necessity criticism of powered figures, such as super heroes, Miller's work has often been about one man fighting not against a system or an established political force, but through a corrupted world which leave him with no other solution than to take matters in his own hands. Works from Miller's comic books, where collectives are involved, like 300 were more focused on the fight of two legitimate state actors fighting against one another in a classical contest of force and power, as opposed to non state actors fighting waging asymmetric combats against an established state actor. Whereas Moore would challenge the very existence of the state and an established power through his work, Miller never challenges the system in his comic books, no matter how corrupt he sees them.

Interestingly, Miller is consistent with his work and himself as an individual who believes that his fate is his own to make and therefore that supporters of the #Occupy movement demands to change the interactions of the financial world with the political one are illegitimate. Miller describes his first years as a comic book artist where his work was constantly rejected and harshly criticized by comic book great Neal Adam as formative influences on his career. He learned from his initial years as a struggling comic book artist to not give up and continue to fight for better conditions of himself, but not for a whole collective. There is no doubt then, no matter, how precarious his life was when he was the same age of the young supporters of the #Occupy movement that their demands, in his views are unreasonable and hence why he lashes out against them.

© Copyright 2002-2019 by Toon Doctor Inc. - All rights Reserved. All other texts, images, characters and trademarks are copyright their respective owners. Use of material in this document (including reproduction, modification, distribution, electronic transmission or republication) without prior written permission is strictly prohibited.