Webcomics / Johnny Bullet Comic
Johnny Bullet #120 Comic
By Hervé St-Louis
June 4, 2017 - 15:16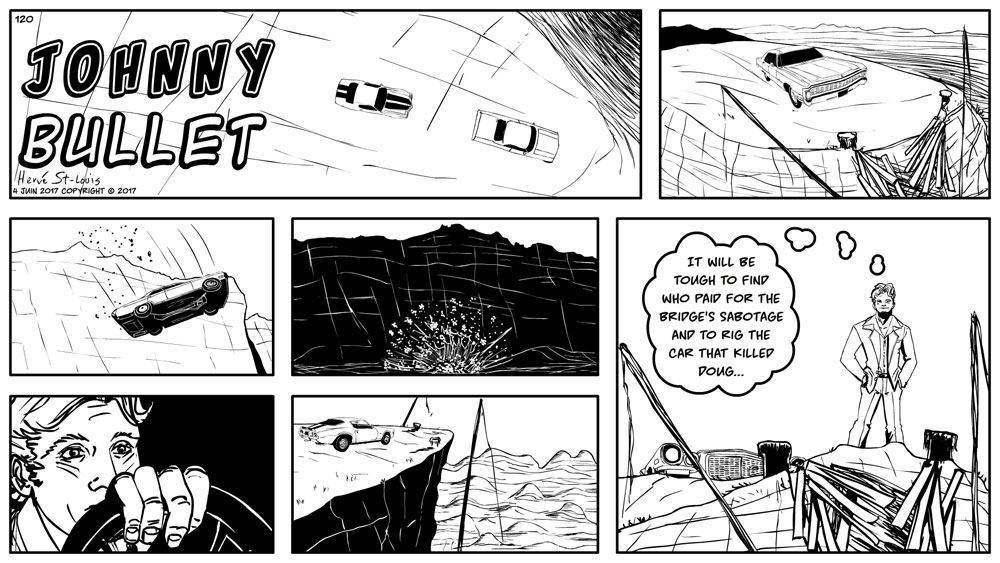 Subscribe to Johnny Bullet through RSS
Patreon


Subscribe to the Johnny Bullet Newsletter
Email me!
Written by : Hervé St-Louis
Pencilled by : Hervé St-Louis
Inked by : Hervé St-Louis
Letterered by : Hervé St-Louis

I am very happy about the success of the Wonder Woman movie. I admit that for years, I did not understand the character and found her boring. It was only after the New 52 reboot that she was appealing to me. Donna Troy (Wonder Girl) had always been more appealing as she reminded me of many girls that I knew growing up.
But DC Comics has finally allowed Wonder Woman to shine past Superman and Batman. Although I criticized the ending of Greg Rucka's Wonder Woman, his version was excellent.
I just don't like when Wonder Woman is treated as a female Superman. She is not that.
Female characters are so much fun to write. They can be difficult too. The three main women in Johnny Bullet are Donnie, Maggy and Ms. Bacon. I like all three of them very much although I admit that each is romantically involved with a man. In the case of two of them, this man is Johnny Bullet. How that works out has yet to be told. It's coming soon though.
Last Updated: September 10, 2021 - 09:13
Join the discussion: