Webcomics / Johnny Bullet Comic
Johnny Bullet #80 Comic
By Hervé St-Louis
July 9, 2016 - 19:20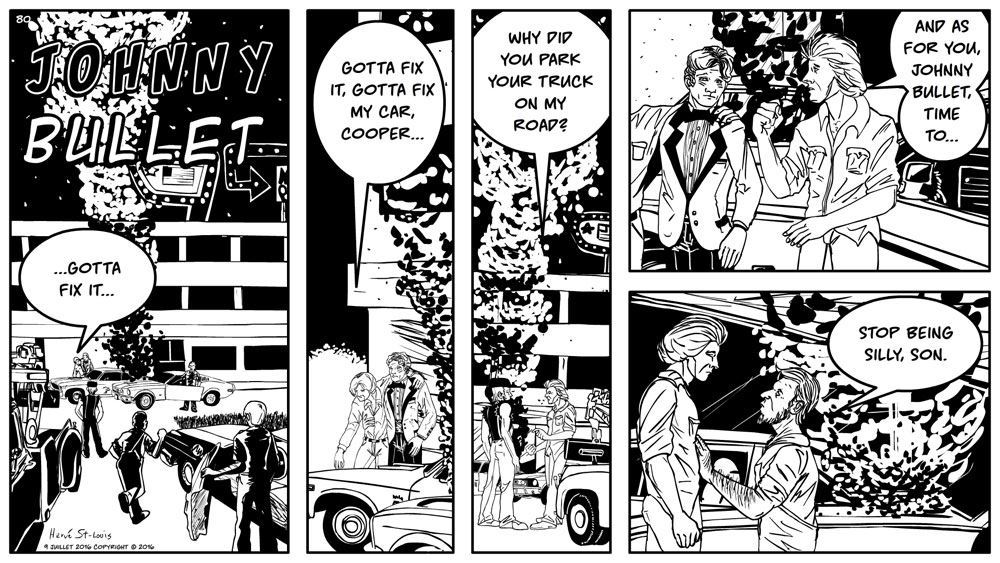 Subscribe to Johnny Bullet through RSS
Patreon


Subscribe to the Johnny Bullet Newsletter
Email me!
Written by : Hervé St-Louis
Pencilled by : Hervé St-Louis
Inked by : Hervé St-Louis
Letterered by : Hervé St-Louis

Hello. How are you? I'm hoping that today reading Johnny Bullet will allow you to forget all the mess in the world for at least five minutes. We have a good world out there. Let's try to keep in shape. There is so much fighting and divisions on the one planet that can sustain life.
Friday and Saturday, I escaped from it all by drawing the page that you see above. It was really helpful to me and made me feel much better. Information overload (which we research in information studies) is a problem sometimes in our networked world.
Here is a
spotlight on Johnny Bullet by Alex Cosa of Graphic Policy
.
Cheers and see you soon.
Hervé
Last Updated: August 4, 2023 - 09:22
Join the discussion: