The Specimen #2
By Hervé St-Louis
January 19, 2015 - 10:18
«« First Comic « Previous Comic Archives RSS Feed Next Comic » Latest Comic »»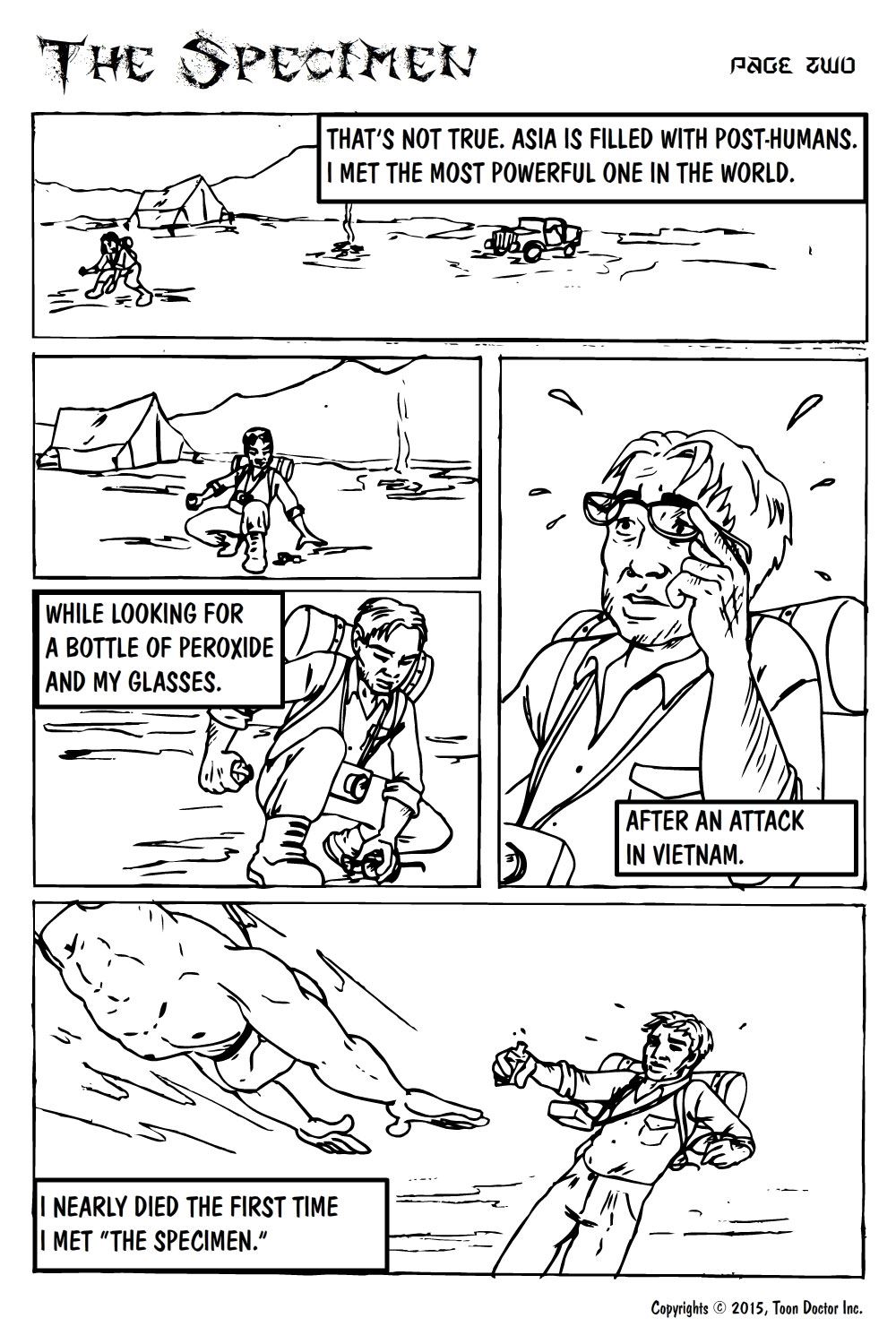 «« First Comic « Previous Comic Archives RSS Feed Next Comic » Latest Comic »»

Written by : Hervé St-Louis
Pencilled by : Églantine Pillet
Letterered by : Hervé St-Louis

I knew a long time ago that I would have to take a short pause from
Johnny Bullet
so I suddenly remembered that I had this short story sitting somewhere on my computer. These drawings are all that I have left from a much bigger project called
Brief
that I worked on throughout the late 1990s and early 2000s. This story was adapted from my draft comic book project as part of a seminar that I was teaching on storyboards. I had drawn the sketches of the story. Animation student Églantine Pillet worked with me on redrawing the pages in 2004.
Part of the project involved comparing the same story as a comic book and as a storyboard. Because of that project, I had digitized all of the pages, unlike most of everything I had drawn to this day. I lost all my animation and comic book drawings (along with my comics collection) in the
2013 Calgary flood
. So I lost the originals to this comic book, including the original scripted words. I rarely write full scripts for my comics. I tend to breakdown the story as I draw it. That's how I work on Johnny Bullet even to this day.
But I do recall the themes of the story. So to deliver The Specimen, I reconstructed the scripts based on memory – ten years later, no less. I know this page, whether in French or English doesn't say the exact same things I wanted it to say in 2004, but this is the best I could do. Since I lost the rest of the breakdowns from which this short story (which was a chapter) is from, I figured that I should post it here as a Web comic. Having lost most of the work I did all my life, this is the all that is left from this past. That's why Johnny Bullet is so important to me and why it's a new start in life. Johnny Bullet is all new material post-flood without any attachments to the past.
Below is the animated part of "Brief." It was an animated pilot for the same project The Specimen is from. Again, just like with The Specimen, I've lost all of the original drawings of the animation and only have this digitized file to work from. I've even lost the separate voice recordings and the soundtrack as the digitized backed up files were also in my basement during the 2013 Calgary flood! Enjoy!
Last Updated: May 18, 2020 - 11:53
Join the discussion: