Webcomics / Johnny Bullet Comic
Johnny Bullet #12 Comic
By Hervé St-Louis
January 18, 2015 - 21:37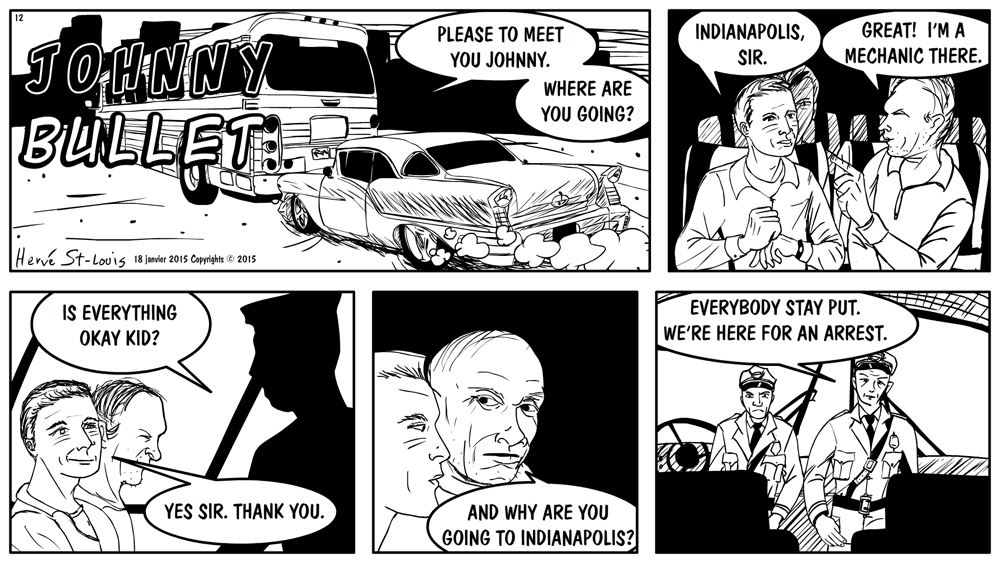 Subscribe to Johnny Bullet through RSS
Patreon


Subscribe to the Johnny Bullet Newsletter
Email me!
Written by : Hervé St-Louis
Pencilled by : Hervé St-Louis
Inked by : Hervé St-Louis
Letterered by : Hervé St-Louis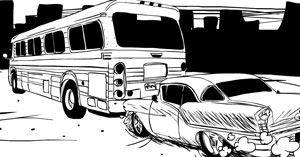 Hello. I have been working on this page all of yesterday and today. It's the first time that I deliver a Johnny Bullet page so fresh! I literally finished it moments ago. It's also the first page I completed in 2015, if there is any significance there. I'm afraid that it will be the only page for a few weeks too. I have important deadlines to meet at the university and I can't work on Johnny Bullet at all. I had already blocked myself from social networks although I still continued to post abut Johnny Bullet. I have a few articles dues this week and I will complete them. After that, I will be offline for a few weeks. I would really like to draw a page, but they take me at least two days to complete, so I'm not sure that I can spare two whole days anymore. My schedule is that tight.
Last week I launched a new Web comic here,
The Specimen
. All the pages are already drawn. But I still need to letter them and clean them a bit. I will try to release them instead on Sundays while I'm off Johnny Bullet. I know, it's a completely different comic. There are unrelated in every way apart of having both being written by me. But I know how bad it is when regular Web comics are not updated. If feels as if the creator has abandoned the feature. I haven't abandoned Johnny Bullet at all. The funny thing is that people who know me understand 100% why I'm taking off for a few weeks. They probably find me too apologetic considering the reasons. I expect that the next Johnny Bullet will be at the earliest on February 8, 2015. See you then!
Last Updated: August 4, 2023 - 09:22
Join the discussion: