Webcomics / Johnny Bullet Comic
Johnny Bullet Comic Book Cover #1
By Hervé St-Louis
July 3, 2016 - 21:43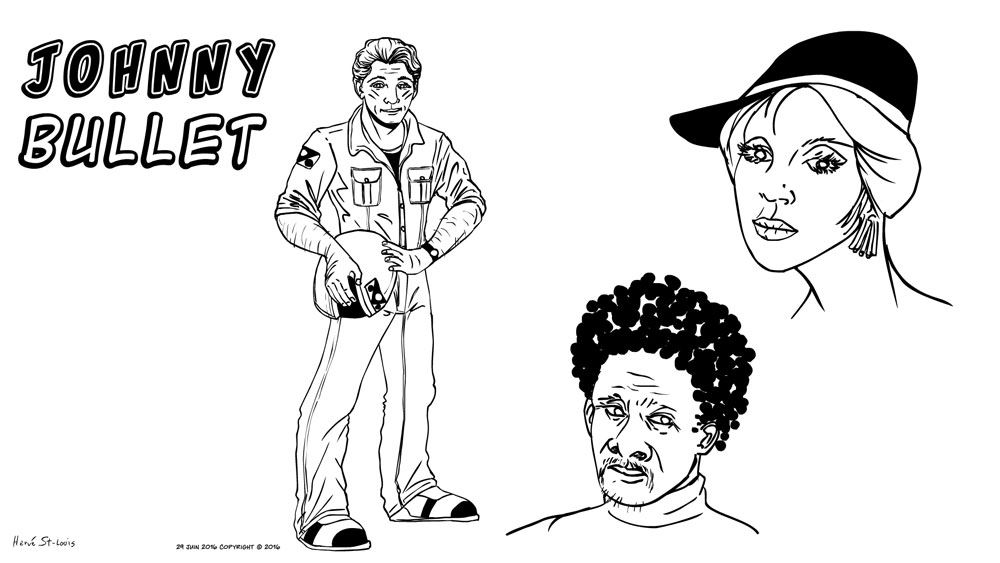 Subscribe to Johnny Bullet through RSS
Patreon


Subscribe to the Johnny Bullet Newsletter
Email me!

Hello. I have been drawing Johnny Bullet comics all weekend just not the current strip due to appear today. I'm working on an eight page pilot which takes place a few days after Johnny leaves Cross Roads. I'm developing this pilot so that it appears in the Octal anthology where unknown creators submit short stories to be part of a comic pitched to publishers and comic media.
This pilot is meant to be a stand-alone story that can be printed for free comic book day or distributed to people easily. It introduces Johnny Bullet's world dynamically. On Friday, for Canada Day, I wrote the script and drew the first thumbnails on paper. On Saturday, I drew sketches of all eight pages in one day.
The image above is the cover for the first comic book that I am planning to release for sale. It will be a digital comic including two bonus pages and the updated original 22 pages from the Johnny Bullet comic that you can read here. I have redrawn and touched up panels and changed the lettering completely. The first chapter did not use the same clean font if you recall. I will try to release this digital comic very soon. I'm not printing it or making it in colour. It's just a small thing for those of you who seek to read Johnny Bullet in one package. The cover above is an updated image that I have shown here before.
The panel on the right with the blue pencil art is from the Octal pilot that I am developing. Below is one of the paper thumbnails I drew Friday. You will notice that I reuse paper if you notice Homer Simpson! All the draft pages will be accessible to my Patreon supporters.
Depending on my schedule this week, I may be able to draw the next strip before next Sunday. There is no way that I could finish this page today.
See you soon!
Last Updated: August 4, 2023 - 09:22
Join the discussion: