Webcomics / Johnny Bullet Comic
Johnny Bullet #23 Comic
By Hervé St-Louis
May 3, 2015 - 02:34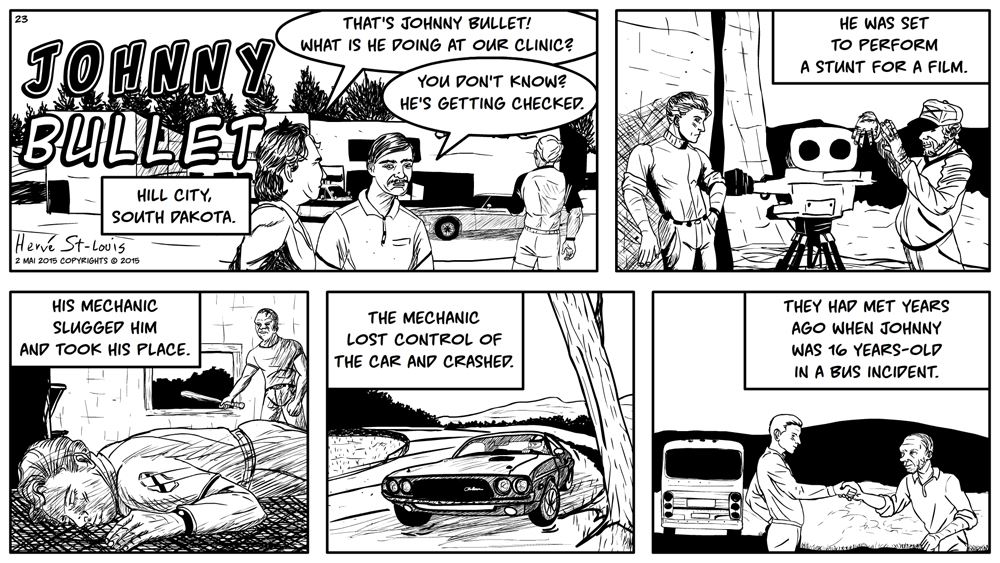 Subscribe to Johnny Bullet through RSS
Patreon


Subscribe to the Johnny Bullet Newsletter
Email me!
Written by : Hervé St-Louis
Pencilled by : Hervé St-Louis
Inked by : Hervé St-Louis
Letterered by : Hervé St-Louis

Hello and welcome back to Johnny Bullet. Today's page starts a new adventure for Johnny Bullet. It is also a perfect jumping point for new Johnny Bullet readers. There are many of you around, judging by our statistics. Some of you do not feel like going back to the first page to read it all. I hear you. Well today's page should help you understand everything that you need to know about the world of Johnny Bullet.
I have to give a shout out to the folks at Drunk Duck, a Web comic portal where I mirror Johnny Bullet. Listen to their
podcast review of Johnny Bullet
. They describe the comic better than I ever did. Their description is as accurate as their earlier
Johnny Bullet featured article
from two weeks ago!
Meanwhile, if you want to see a bigger image of today's comic strip without the captions, just support me on
my Patreon page
. There you'll also find a lot of exclusive goodies, like the new characters that will soon appear in Johnny Bullet. Also check out the
exclusive Johnny Bullet Bonus #1 strip
for Patreons $5 supporters only!
Last Updated: August 4, 2023 - 09:22
Join the discussion: