Webcomics / Johnny Bullet Comic
Johnny Bullet #22 Comic
By Hervé St-Louis
April 26, 2015 - 16:04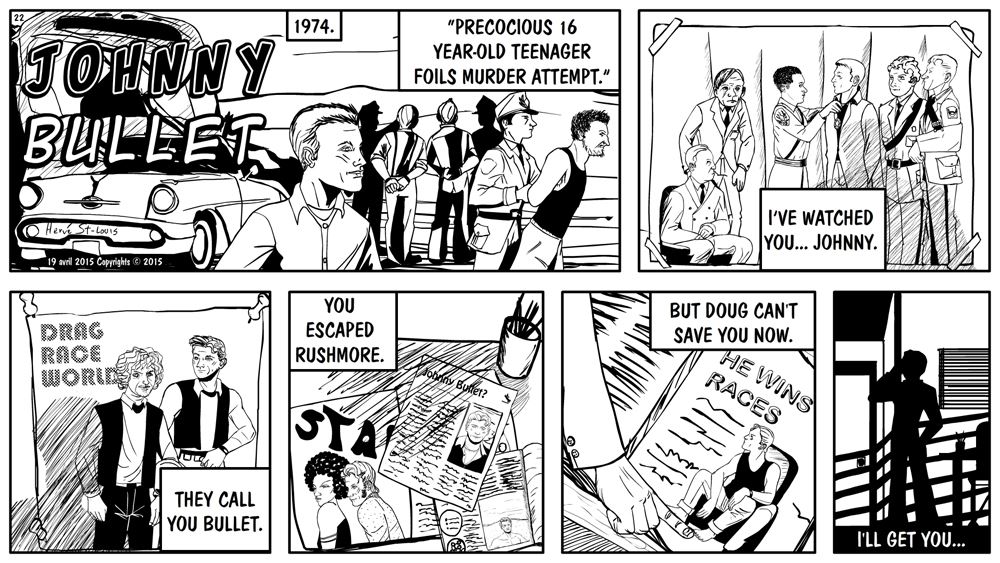 Subscribe to Johnny Bullet through RSS
Patreon


Subscribe to the Johnny Bullet Newsletter
Email me!
Written by : Hervé St-Louis
Pencilled by : Hervé St-Louis
Inked by : Hervé St-Louis
Letterered by : Hervé St-Louis

So I blew up my one-week buffer because I binged on Daredevil and was preparing my PhD Research Days presentation which went pretty well, according to people who saw me present. I ended my presentation by plugging Johnny Bullet! I think my entire Faculty knows about Johnny Bullet now. It was featured on the Faculty of Information's Website. This week,
Drunk Duck
, a major Web comic portal also had a feature on Johnny Bullet That was spot on. Their description of Johnny Bullet was better than mine! It was amazing.
The page above took me a lot of time to draw. Oh by the way, this page is like a chapter ending. I don't have strict chapters for Johnny Bullet but this would be the last page of the first chapter, if there was such a thing. It's also been about six-months since I started working on Johnny Bullet. Thank you all for reading Johnny Bullet.
I tested the new font I asked the community to pick on this page. It looks great. However, I decided to finish this "chapter" with the old font for consistency. New week's strip will feature the new font as well as a new storyline. Thank you for visiting. If you like Johnny Bullet, tell other people and spread the word!
I you
follow me on Patreon
, you will see an exclusive image of new characters introduced in the next storyline. It should make many of you smile!
Cheers
Hervé
Last Updated: August 4, 2023 - 09:22
Join the discussion: