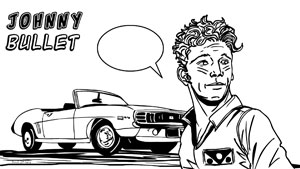 Press Releases
Identity Stunt Exposed!
By The Editor
February 24, 2018 - 14:43
Markosia Enterprises
Writer(s): Joe R. Khachadourian
Artist(s): J. Briscoe Allison, Ruairí Coleman
Colourist(s): Juancho Velez, Tim Brown
Letterer(s): A.J. Scherkenbach

Markosia Enterprises announced today a new addition to their line of graphic novel titles: Identity Stunt. Capturing the bombastic tones and dialogue of '80s and '90s action films, Identity Stunt is a relentless odyssey involving complex characters, a touch of romance and a fistful of masked lunatics. It's Lethal Weapon meets Unbreakable in an era of viral media and "fake news."

Meet professional stuntman Sami "Sam" Nasser: work is dwindling, his marriage is in limbo, and he's trying to save his best friend from self-destruction. Just as he's getting a handle on things, Sam's publicly accused of being the alter ego of Beatdown -- his hometown's notorious and unhinged vigilante -- by the nefarious Dominus Smith, Beatdown's own arch-nemesis!

"What would you do if a vigilante's arch-nemesis mistook you as the alter ego of his mortal enemy?" Inspired by a mutual lifelong love of comic books and adventure cinema, creator/writer Joe R. Khachadourian (Transformers: Mosaic) and artists J. Briscoe Allison (Sweet Lullaby) and Ruairi Coleman (KISS/Army of Darkness) endeavor to answer that question in as entertaining and electrifying a way as possible.

"We are absolutely thrilled to be bringing Sam's story to the world. For people like myself who grew up reading comics and binging on a steady diet of '80s and '90s action films, Identity Stunt hits all the right emotions for fans of thrillers, new and old," said Khachadourian.

"It's a non-stop adventure at a breakneck pace, featuring bionically-enhanced mercenaries, car chases, martial arts melees, you name it; but it also contains hilarity and heart that really shine through in this old school/new school, superfiction mashup. With a multicultural cast -- including a Jordanian-American lead -- combined with a genre-bending storyline, Identity Stunt brings something novel to the comic book marketplace."

This first issue, titled "First Blood," will be available digitally March 5, 2018. It is available for pre-order now at www.identitystunt.com for $1.99. A trade paperback collection of the first four issues will be available in comic and book stores this summer.

#ABeatdownIsComing2018

ABOUT MARKOSIA ENTERPRISES
Markosia was established in 2005 and has become one of the UK's leading publishers of graphic novels. Based in London, we have gained a reputation for producing a diverse range of comic books and graphic novels that cover almost all genres. Some of the creators that have worked on Markosia titles include 'Midnight Kiss' artist Ryan Stegman (Superior Spider-Man), 'Starship Troopers' artist Neil Edwards (Fantastic Four), 'Of Bitter Souls' artist Norm Breyfogle (Batman), 'Dark Mists' artist Lee Garbett (Batman), 'Scatterbrain' artist Szymon Kudranski (30 Days of Night) and many more. Our varied range continues to impress as the company goes from strength to strength. For more information, visit www.markosia.com.


© Copyright 2002-2019 by Toon Doctor Inc. - All rights Reserved. All other texts, images, characters and trademarks are copyright their respective owners. Use of material in this document (including reproduction, modification, distribution, electronic transmission or republication) without prior written permission is strictly prohibited.