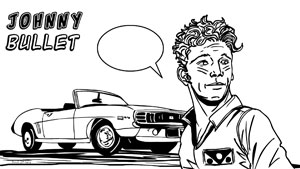 Comics News
Scene on Video: Toronto Comic Arts Festival – Pencil it In
By The Editor
May 2, 2011 - 05:01
Toronto Comic Arts Festival
$3.99 US

A Toronto Comic Arts Festival 2011 preview video featuring graphic novelists Chester Brown, Michael Comeau, Steve Charles Manale, Vicki Nerino, Michael Cho, Michael DeForge, Seth, Fiona Smyth, and Britt Wilson.



Toronto Comic Arts Festival: Pencil it In from Toronto Comic Arts Festival on Vimeo.



© Copyright 2002-2019 by Toon Doctor Inc. - All rights Reserved. All other texts, images, characters and trademarks are copyright their respective owners. Use of material in this document (including reproduction, modification, distribution, electronic transmission or republication) without prior written permission is strictly prohibited.