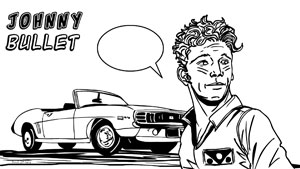 More Comics
The James Kochalka Experience, Part 2: Monkey vs. Robot
By Leroy Douresseaux
June 29, 2005 - 04:54
Publisher(s): Top Shelf Productions
Writer(s): James Kochalka
Penciller(s): James Kochalka
Cover Artist(s): James Kochalka



Welcome to the second installment of "The James Kochalka Experience."

James Kochalka

is a prolific alternative cartoonist and musician, having been published in the U.S. (mostly by Top Shelf Production) and internationally. He has also recorded several music CD's under the name

James Kochalka Superstar

. Kochalka's best known American comix are the acclaimed series,

Sketchbook Diaries

, and the book

Mr. Charlie

(#57) is going to take a look at this time,

MONKEY VS. ROBOT

(2000). Top Shelf has released

Monkey vs. Robot

in a new edition [10.00 (U.S.), 160 pp., 6" x 6", B&W with a color cover; ISBN: 1-891830-15-5; Diamond Code: MAR053223]:

This all-out war between machine and simian is probably the greatest fictional rumble in the jungle outside of "Tarzan" novels. Deep in the jungle, a factory of self-replicating robots goes about its business of making more robots. Worker robots scour the jungle looking for raw materials, drawing the attention of monkeys who live in the surrounding jungle and the nearby grasslands. A curious monkey dies after he is inadvertently covered in the large wave of industrial waste from the robot factory via a drainage pipe. Angry about the incident, the other monkeys set a trap for the robots, leaving piles of their excrement on the ground. After a robot slips in the poo and ends up damaged, it calls for help. Once the responding robot realizes what the beasts did, it orders the extermination of the local colony of monkeys. After the robots' initial salvo, the monkey's fight back, and it's on!

An illustrated sequential narrative,

Monkey vs. Robot

has, as its closest cousin, Andy Runton's all-ages graphic novel series

Owly

. While Runton used symbols, icons, and expressions to create silent comic art (no dialogue or sound effects), Kochalka sparsely spreads around dialogue and a few sound effects. What makes both works similar is that both cartoonists use simply designed artwork and layouts to tell large stories full of dramatic conflict and emotion. A single picture containing no internal narrative can say so much to the viewer. A sequence of single pictures combined to tell a narrative can tell a tale as rich and as compelling as comic books with the most flashy, over-rendered, and busy art.

Although it should be inconceivable, the image (its obvious surface elements) increasingly becomes more important than what is beneath – the heart of a matter, the core of the idea, or the meat of something, if you will. More and more comics are about window dressing. Even in a visual medium appearance can be little or nothing next to the narrative itself. This is especially true of superhero comics, and the stories the medium pretends to tell, are more like objects designed to appease buyers who have a fetishistic need for the comic book package rather than the need to experience a particular narrative that package contains.

Kochalka is not about the bells and whistles unless it serves the story, characters, and setting. In Monkey vs. Robot, the panels are straightforward and are concisely placed in small groups to suggest (or perhaps control) the ebb and flow of the action. Kochalka uses the black and white art like color – playing light and shadow or creating positive and negative space to create atmosphere, conflict, tension, or even suggest the state of affairs at a particular moment in the narrative.

This is truly the kind of comic that deserves to be called both "sequential art" and a graphic novel. Monkey vs. Robot also affirms that it is not the prettiness of the art or draftsmanship of the cartoonist that makes a comic great or even good. It's simply the ability to tell a story using pictures, as clearly and as richly as any other visual medium, or storytelling medium for that matter.

© Copyright 2002-2019 by Toon Doctor Inc. - All rights Reserved. All other texts, images, characters and trademarks are copyright their respective owners. Use of material in this document (including reproduction, modification, distribution, electronic transmission or republication) without prior written permission is strictly prohibited.