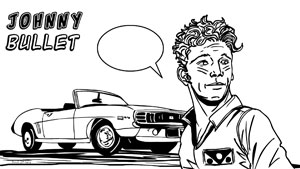 Comics to Toys
New 52 Superman Action Figure
By Andy Frisk
August 24, 2012 - 00:41
As reported at MTV Geek, Mattel is planning on releasing new DC Comics action figures with New 52 versions of Superman and Batman. While new DC Comics hero figures are always and awesome release, especially from Mattel, the fact that they are releasing Superman and Batman in their new costumes might solidify the fact that their new costumes are here to stay. While Batman's new outfit really isn't anything much of a departure from how he's looked on film and in DC Comics recently, Superman is pretty radically different. No, I'm not still hung up on the absence of the red trunks, but I still cannot warm to the whole collar thing...

Either way, this 6" Superman action figure looks pretty good. It has several points of articulation and appears to be well sculpted. It definitely captures the young look of this new version of Superman and faithfully captures all of the excessive lines and symbols built into the new supersuit. It truly looks like a great action figure that kids would love to play with and that a Superman action figure collector like myself would love to have on his bookshelf...I just wish that this particular suit wasn't now solidified as canon with an action figure.

© Copyright 2002-2021 by Toon Doctor Inc. - All rights Reserved. All other texts, images, characters and trademarks are copyright their respective owners. Use of material in this document (including reproduction, modification, distribution, electronic transmission or republication) without prior written permission is strictly prohibited.