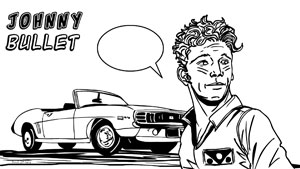 More Comics
Kade: Identity
By Andy Doan
May 15, 2008 - 20:49
Arcana Studios
Writer(s): Sean O'Reilly
Penciller(s): Allan Otero
Inker(s): Allan Otero
Colourist(s): Steve Cobb
Letterer(s): Sean O'Reilly
ISBN: 0-9763095-1-3
124 pages, US $9.95, CDN $13.95

Kade

has many questions about his past. Who was behind the brutal murder of his mother? As an infant how did he survive a night alone in the middle of a snow storm? Why can't he feel physical pain? Found and raised by a kind hearted monk,

Kade

is left to ponder these questions until one day when one day answers come in the worst way possible. An evil demon named

Apollyon

believes that

Kade

is the only thing that stands between him and control of the Earth. He finds finds the young man's adopted home and kills everyone in the small village including

Kade

.

Kade

awakens after receiving a mortal injury and the story begins. Will he unlock the secrets of his past and discover his destiny? The clock is running out and the fate of the entire race of man is at stake.

The storyline takes the shape of the typical prophesied saviour emerging in humanity's darkest hour. Guess what! The savior was the guy everyone thought it was despite his doubts. And .... He does save the world at the last possible moment while all hope is lost. Phew! The attempt to separate this story from the rest comes in the way that it's set in a Gothic themed fantasy world. Most of the unique qualities of the world are upstaged by the more standard features.

Orcs

, Elves,

Dwarves

and Giants. We also have a racial sampler of a fellowship standing in as the good guys and Magical monster trying to unleash the ultimate evil on earth as the villain. It seemed there might have been an expectation for the reader to understand things on a little higher level then I did. To me it seemed like many details of the story where kind of glazed over. I have no idea where most of the main supporting cast came from. It just seemed like suddenly he was in a group and in the middle of a quest. This might explain why when members of the party began dying off four panels after being introduced I cared a great degree less then the surviving members. I think it was the abrupt pacing of the book as a whole that caused me to care very little about any of the characters. The personality for the main bad guy wasn't even outlined good enough for me to get behind him.

The art in this volume was a choice of style over substance. Reminding me more of one of Marvels

Ultamite

books then a medieval fantasy. It failed to create the Gothic theme that the writer was going for. Far too much colour and not enough shading. Throw in a few X-Men or the Fantastic Four in the mix with little New York in the background and I think I would have had a totally different opinion.

After my first run through I was a little annoyed. Here

I'd

spent 45 minutes of my life reading someones ham-handed attempt at a fantasy epic. It was only after thinking of my younger Brother-in-law that I realized what I had missed. This book isn'tdesigned for 32 year old men. It's designed and written for 12 year old boys. My opinion completely changed. I'm imagining this being a huge hit with the kids that are a little too tough for Harry Potter but maybe a little too ADD for Lord of the Rings. Someone who spends a couple hours after school each night playing World of

Warcraft

on their parents desk top would feel right at home in this world.

The bottom line is don't pick up this book if you're looking to fill the gap between issues of Conan. If you're going on a trip to Grandma's house two states over and you want to keep the "are we there yet?"s to a minimum this might be theperfect fit!
© Copyright 2002-2019 by Toon Doctor Inc. - All rights Reserved. All other texts, images, characters and trademarks are copyright their respective owners. Use of material in this document (including reproduction, modification, distribution, electronic transmission or republication) without prior written permission is strictly prohibited.