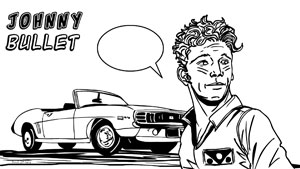 Comics News
Toronto Comic Arts Festival Endorsed by Liberal's Bob Rae
By Hervé St-Louis
May 4, 2009 - 23:42
Toronto's Authors at Harbourfront Centre hosts the 2009 Toronto Comic Arts Festival at the Harbourfront Centre. The Toronto Comic Arts Festival is the brainchild of comic book store The Beguiling and comic book publisher Drawn & Quarterly created to beef up the credibility of Their Doug Wright Awards and the newly published

Doug Wright

archives. For several years, the strategy to gain legitimacy of the chief sponsors of the Toronto Comic Arts Festival has been to surround their exclusive comics' festival with an award show that further support the objectives of the sponsors.



This year, the Toronto Comic Arts Festival features Seth, Adrian Tomine and Yoshihiro Tatsumi. Seth (Canada), whose illustrations have appeared in most of the major Canadian and US magazines and on the cover of the recent Penguin The Portable Dorothy Parker, presents his just-released graphic novel,

George Sprott: (1894–1975)

; and Adrian Tomine (USA), creator of the iconic

Optic Nerve

series, presents his first full-length graphic novel,

Shortcomings

(which had its Canadian debut at the International Festival of Authors in 2007). Tomine then interviews Yoshihiro Tatsumi, the Japanese artist recognized as the precursor to today's graphic novel movement in North America, about his new, autobiographical tome,

A Drifting Life

. Yoshihiro Tatsumi's appearance is a first in Canada.

To crown the Toronto Comic Arts Festival, the Doug Wright Awards will present their 2009 awards on May 9, 2009. Again to gain credibility, the Doug Wright Awards have recruited many, such as the Liberal Party of Canada's second in command and the former Premier of the province of Ontario, Bob Rae. The Doug Wright Awards still have not issued an apology for the discrimination they practiced against Francophone Canadians in the past. When reached by

The Comic Book Bin

, Mr. Bob Rae's assistant, Kate Purchase stated "It is in the best interests of the francophone community for Mr. Rae to use his influence to create fairer practices in any way he can."

The Comic Book Bin

is still waiting for clarifications requested on April 8, 2009 from Mr. Rae's office about what he will do to help redress past discriminations against Francophones. Mr. Rae is a close personal friend of principals associated with the Doug Wright Awards. It is not clear what Mr. Rae intends to do to help fight discrimination against Francophones by the Doug Wright Awards. One thing is clear, by giving his unmitigated support to the Doug Wright Awards, Mr. Bob Rae signals that he has no issues with the discrimination practiced by the Doug Wright Awards against Francophone Canadians.
© Copyright 2002-2019 by Toon Doctor Inc. - All rights Reserved. All other texts, images, characters and trademarks are copyright their respective owners. Use of material in this document (including reproduction, modification, distribution, electronic transmission or republication) without prior written permission is strictly prohibited.