Naruto: Volume 36
By Leroy Douresseaux
February 3, 2009 - 12:25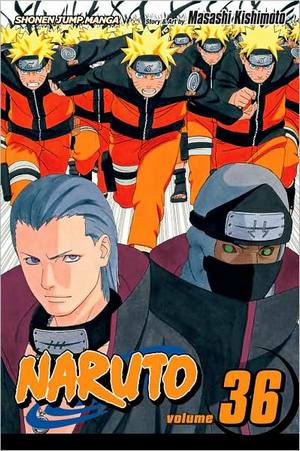 Naruto 36 cover image is courtesy of barnesandnoble.com.
Rated "T" for "Teen"
When Uzumaki Naruto was a baby, a nine-tailed fox spirit was imprisoned within his infant body. The incorrigible Naruto became a young ninja-in-training, but after two years of training, he is now fully a ninja. His quest to become the world's greatest ninja and "Hokage" (village champion) of his home, Konohagakure, continues.
In Naruto, Vol. 36 (Cell Number 10), Lord Asuma Sarutobi and Cell Number 10 battle the Akatsuki, Kakuzu and his partner, Hidan – perhaps the toughest foes the Konoha ninja have ever faced, and one of Cell Number 10 will die as a result of the battle. Meanwhile, with the encouraging of his mentor Kakashi, Naruto takes on Rasengan!
THE LOWDOWN: The secret to the success of Naruto as a multi-media property: novels, anime, toys, etc – is really no secret. The source material, Naruto, the manga by creator Masashi Kishimoto, is simply a great comic book, and the spin-off media that follows the manga closely will also thrive. Readers latch onto Naruto not just because it's an imaginative fight comic – a kind of ninja manga as superhero comic, but also because Naruto is an epic tale of a young "chosen one," with a huge cast of supporting protagonists and antagonists around him. Conflicts, partnerships, fellowships, and love abound, and at the heart of this is the young hero who is the focus of a great, dark conspiracy – all set around a school for ninja. These are many of the same elements that first attracted young male readers to Harry Potter and the Philosopher's Stone back in 1997.
POSSIBLE AUDIENCE: Fans of shonen manga will gather around the ultimate shonen title, Naruto.
A+
Last Updated: June 23, 2021 - 00:45