Comics / Manga / Yaoi Manga
Cause of My Teacher (Yaoi)
By Leroy Douresseaux
October 8, 2009 - 14:35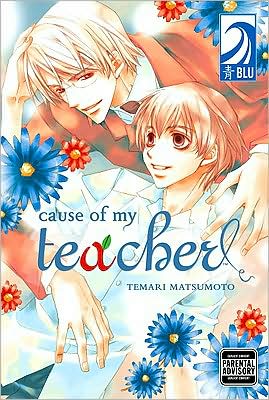 Cause of My Teacher cover image is courtesy of barnesandnoble.com.
Rated "M" for "Mature"
Manga-ka Temari Matsumoto (Just My Luck) offers six tales that are about student/teacher relationships or something similar in the yaoi short comics collection, Cause of My Teacher. The dynamic is wise older and young learner – in the ways of love and sex.
The title story focuses on Tohru, a student in love with his teacher, Minazuki. For Tohru, the sexiest thing about Minazuki is the way he wears his eyeglasses, but Tohru is slightly peeved that whenever they kiss, his sensei removes his glasses. When Tohru sees Minazuki apparently kissing a girl and still wearing the glasses, he is determined to get answers even if it means the end of their relationship.
Other stories include a romance between a student considered an "uptight freak" and his pushover teacher ("In the Guidance Room"), and a tale of a stranger in a strange land who struggles with a forbidden love ("The Boy from the Palace of the Sea"). In "Please, Young Master," the young master, a swordsman who has great physical beauty, rejects the advances his teacher, a ninja. Also, Hiiragi and Asagi, the ninja duo from Temari Matsumoto's Shinobu Kokoro, star in a short tale of romantic bickering.
THE LOWDOWN: Some of these stories are too short. "Cause of My Teacher" and especially "The Boy from the Palace of the Sea" should at least be manga novellas. Matsumoto has created 12 excellent romantic pairings whose stories are ripe for mining love and drama, but the author just does not do that much digging. As good as these short pieces are, reading them can make you feel as if someone stole the creamy center out of your candy bar.
POSSIBLE AUDIENCE: Readers looking for student/teacher romance will find it in Cause of My Teacher, albeit it a highly condensed form.
B
Last Updated: June 23, 2021 - 00:45