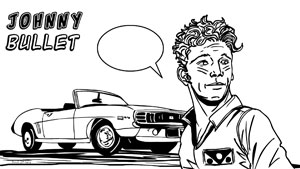 Marvel Comics
Young Avengers #4
By Kevin Scott
May 23, 2005 - 18:19
Publisher(s): Marvel Comics
Writer(s): Allan Heinberg
Penciller(s): Jim Cheung
Inker(s): John Dell & Drew Geraci
Cover Artist(s): Jim Cheung


It's the Young Avengers versus the Avengers when Captain America and Iron Man force Patriot, Asgardian, and Hulkling to reveal their secret identities. But will the growing threat from a classic Avengers foe unite the two teams or destroy them both?

OK, so NOW certain things are falling into place! We find out something real big about the young team, that could really make this book interesting and standout. The story for the most part follows an obvious path. On this journey, in places we stumble over some irksome situations (cough, Katie, cough). But this isn't a bad overall issue and it will be interesting to see the rest of the development and conclusion to this opening arc.

I have to say, the full shots of Kang, make him look as intimidating as Tweetie from Buck Rogers. Cheung's close ups of his mask though, those are pretty sinister. The first half of the book is OK, but it really takes off with the tunnel scenes. Really nice line work and the Justin Ponsor's colours really do create the perfect tone. The scenes of devastation towards the end are also well rendered.

© Copyright 2002-2019 by Toon Doctor Inc. - All rights Reserved. All other texts, images, characters and trademarks are copyright their respective owners. Use of material in this document (including reproduction, modification, distribution, electronic transmission or republication) without prior written permission is strictly prohibited.