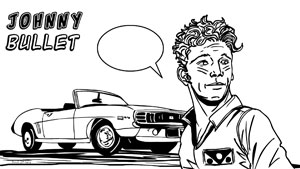 Marvel Legends
X-Factor Cyclops
By Hervé St-Louis
January 9, 2011 - 10:10

I don't like this Cyclops action figure very much. He's very stiff and not exactly built in the style of other Marvel Legends action figures. Mr. Sinister seem to have the same kind of stiffness. Great, the hero and his arch villain can play along fine now. The problem is I'm used to super articulated Marvel Legends action figures. This looks like like something DCDirect would do. The sculpt is better and the articulations are fewer. However the plastic is the stiff one that breaks easily.

I think this mould must have been used for another X-Men series and recycled here for Marvel Legends. Angel which came from the same Series 10 Sentinel release looks much more like traditional Marvel Legends toy. The look feels plain of course, as this is the old Cyclops from the late 1980s and early 1990s.

There was a variant of this toy with the original X-Factor costume with the big white X on Cyclops. He also came with the left arm of the sentinel action figure. Of course, this toy is most likely sold out and retails for at least $50 if you can find it. I don't know much about the variant since I've never had it, but it's probably rarer.
© Copyright 2002-2021 by Toon Doctor Inc. - All rights Reserved. All other texts, images, characters and trademarks are copyright their respective owners. Use of material in this document (including reproduction, modification, distribution, electronic transmission or republication) without prior written permission is strictly prohibited.