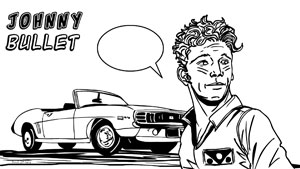 Marvel Comics
Wolverine #52
By Scott K. Reese
March 29, 2007 - 14:49
Publisher(s): Marvel Comics
Writer(s): Jeph Loeb
Penciller(s): Simone Bianchi

Wolverine and Sabretooth continue their knockdown, drag-out fight in this issue, which leads them to Wakanda. As with the previous issues nothing of the odd, fuzzy creature mystery is explained here. There seems to be some big, continuity-changing secret about to affect Wolverine but the reader doesn't get any solid clues.

Pacing the story so slow with relatively little accomplished in each issue kills the story for me. I like Jeph Loeb's writing and I think that he has a good ability to boil a character down to its basics and tell the definitive story but you can't string your readers along. That definitive story is what he is trying to tell here with Wolverine and Sabretooth, but nothing about Logan's confusing visions have been explained. Not even a little hint. It's as though Loeb thinks that his big secret is too good, and that it must be exposed in one big reveal.

Simone Bianchi art is the saving grace of this book. His illustrations are so original and his panel structure so different that it helps make up for the story. The fights between Wolverine and Sabretooth are incredibly brutal and are so visceral they seem to leap of the page. However, despite the wonderful art the story will leave most readers feeling burned and some will drop the series before the big secret is revealed.



© Copyright 2002-2019 by Toon Doctor Inc. - All rights Reserved. All other texts, images, characters and trademarks are copyright their respective owners. Use of material in this document (including reproduction, modification, distribution, electronic transmission or republication) without prior written permission is strictly prohibited.