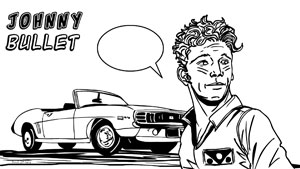 Press Releases
VIZ Media Announces "Fire Punch" Manga
By The Editor
January 11, 2018 - 22:25




VIZ MEDIA ANNOUNCES THE NEW MANGA SERIES FIRE PUNCH





Dive Into An Icy Apocalypse In The Tense New Dystopian Series FIRE PUNCH



VIZ Media, LLC (VIZ Media), a premier company in the fields of publishing, animation distribution, and global entertainment licensing, announces the debut of FIRE PUNCH on January 16th, 2018.

This new dystopian thriller by creator Tatsuki Fujimoto is rated 'M' for Mature Readers and will be published under the VIZ Signature imprint. Volume 1 will carry a print MSRP of $12.99 U.S. / $17.99 CAN. FIRE PUNCH also launches digitally on January 16th via viz.com and the VIZ Manga App, as well as from the Nook, Kobo, Kindle, iBooks, comiXology, and Google Play stores. Future volumes of the series will be published on a quarterly basis.

In FIRE PUNCH, orphaned siblings Agni and Luna, like the Ice Witch who cursed their world, are two of the "blessed," humans who hold special abilities. However, not all who are blessed are friendly, and after another of their kind attacks Agni and decimates the orphans' village, Agni fights to survive, vowing revenge.

"FIRE PUNCH presents a stark vision of the world where those who are 'blessed' can use their special abilities to give hope to or wreak havoc on the starving masses," says Jennifer LeBlanc, Editor. "Follow humanity's struggle for survival in this dark and sometimes crazy supernatural thriller this January."

For additional information on FIRE PUNCH and other manga titles published by VIZ Media, please visit viz.com.



© Copyright 2002-2019 by Toon Doctor Inc. - All rights Reserved. All other texts, images, characters and trademarks are copyright their respective owners. Use of material in this document (including reproduction, modification, distribution, electronic transmission or republication) without prior written permission is strictly prohibited.