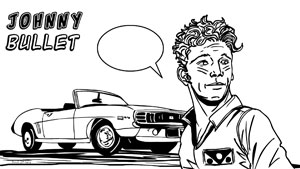 Press Releases
VIZ Media Announces Bleach "Unforgiven Double Feature"
By The Editor
February 9, 2016 - 21:41




VIZ MEDIA ANNOUNCES HOME MEDIA RELEASE OF BLEACH MOVIES: THE UNFORGIVEN DOUBLE FEATURE





Catch The Intense Supernatural Anime Feature Film Action Of BLEACH THE MOVIE: FADE TO BLACK And BLEACH THE MOVIE: HELL VERSE In A Special New Double DVD Set



VIZ Media, LLC (VIZ Media), the largest distributor, publisher and licensor of anime and manga in North America, offers a special treat to anime aficionados and BLEACH fans as it announces the release of the

BLEACH MOVIES: THE UNFORGIVEN DOUBLE FEATURE

, a special home media edition.

Set for retail release on February 16th, this new DVD set contain BLEACH THE MOVIE: FADE TO BLACK as well as BLEACH THE MOVIE: HELL VERSE. The 2-disc set will carry an MSRP of $14.98 U.S. / $21.99 CAN and will feature dubbed English as well as subtitled audio tracks for both movies. Bonus features will include a production art gallery and movie trailers.

In BLEACH THE MOVIE: FADE TO BLACK, a strange disturbance in the World of the Living sends Ichigo and Kon to the Soul Society, where the Seireitei has been devastated by an explosion of reishi and Rukia is missing. Stranger still, none of the Soul Reapers remember Ichigo, and they think he's the one responsible for the destruction. Now on the run, Ichigo is forced into a lonely battle in order to find Rukia and stop the real culprits!

Hell – a place where beings that have committed mortal sins during their lifetime are sent. It is a realm where even Soul Reapers are forbidden to interfere. In BLEACH THE MOVIE: HELL VERSE, a group of vicious Sinners plots to escape from this eternal prison, they discover that Substitute Soul Reaper Ichigo Kurosaki is the key to their freedom. The Sinners launch an attack and in the process kidnap Ichigo's younger sister Yuzu and take her to Hell. With the help of a mysterious man named Kokuto, Ichigo and his friends must now travel into the depths of Hell to stop the Sinners and save Yuzu, unaware that their actions could bring Hell to the World of the Living.

The BLEACH animated films and TV series (distributed in North America by VIZ Media, rated 'TV-14') are based on a smash hit manga series created by Tite Kubo (also published in North America by VIZ Media, rated 'T' for Teens) that follows the adventures of Ichigo, a 15-year old student with the ability to see ghosts. When his family is attacked by a Hollow – a malevolent lost soul – Ichigo encounters Rukia, a Soul Reaper, and inadvertently absorbs her powers. Now, he's dedicating his life to protecting the innocent and helping tortured souls find peace.

For more information on BLEACH manga and anime titles published by VIZ Media, please visit www.viz.com.







© Copyright 2002-2019 by Toon Doctor Inc. - All rights Reserved. All other texts, images, characters and trademarks are copyright their respective owners. Use of material in this document (including reproduction, modification, distribution, electronic transmission or republication) without prior written permission is strictly prohibited.