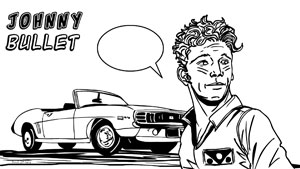 Press Releases
VIZ Media and Haikasoru Publish "Hanzai Japan"
By The Editor
September 30, 2015 - 13:27




VIZ MEDIA'S HAIKASORU LITERARY IMPRINT PUBLISHES THE SUPERNATURAL TINGED HANZAI JAPAN – FANTASTICAL, FUTURISTIC STORIES OF CRIME FROM AND ABOUT JAPAN





New Short Story Collection From Haikasoru's Anthology Series Features 16 Crime And Mystery Works From A Vanguard Of Critically Acclaimed Japanese And Western Authors



VIZ Media's Haikasoru literary imprint captivates fiction readers and fans of Japanese pop culture with the debut on October 20th of HANZAI JAPAN - Fantastical, Futuristic Stories of Crime From and About Japan.

HANZAI JAPAN contains 16 inventive crime/mystery stories that incorporate supernatural elements from a vanguard of top authors that includes New York Times best-seller Carrie Vaughn, All You Need Is Kill/Edge of Tomorrow's Hiroshi Sakurazaka, Catwoman's Genevieve Valentine, mystery genre stalwarts S. J. Rozan and Naomi Hirahara, cross-genre author Jeff Somers, and many more. HANZAI JAPAN - Fantastical, Futuristic Stories of Crime From and About Japan, edited by Nick Mamatas And Masumi Washington, will carry a print MSRP of $15.99 U.S. / $18.99 CAN. An eBook edition also will debut on the same day for the Amazon Kindle, Apple's iBooks Store, Barnes & Noble's Nook Book Store, the Kobo eBooks Store, and the Google Play store.

A murderer doing time in hell. A girl who just wants to win her high school band contest…no matter what it takes. Sumo wrestlers with a supernatural secret. A future Tokyo where vampires are menial laborers nursing long-held grudges against humanity. And even a very conscientious, if unstable, Universal Transverse Mercator projection. These crime and mystery stories from and about Japan explore myth, technology, the sharpness of a sleuth's mind, and the darkness in the hearts of criminals. Read these stories and learn that hanzai means crime!

"Haikasoru's short story anthologies have proved extremely popular with readers and we are excited to release the latest addition to the series with the debut of HANZAI JAPAN later this month," says Nick Mamatas, co-editor. "The new book presents a unique array of weird crime and mystery stories from an international cadre of best-selling authors and some of the hottest new writers working today. We look forward to readers embarking on a mind-blowing journey to the darker sides of Japanese pop couture with this new release!"

HANZAI JAPAN is the third release in Haikasoru's critically acclaimed anthology series that presents thematic short story collections inspired by the Land of the Rising Sun. The anthology series also includes the previously released PHANTASM JAPAN: FANTASIES LIGHT AND DARK, FROM AND ABOUT JAPAN and THE FUTURE IS JAPANESE.

For more information on HANZAI JAPAN and the Haikasoru imprint, please visit the dedicated website at www.haikasoru.com.






© Copyright 2002-2019 by Toon Doctor Inc. - All rights Reserved. All other texts, images, characters and trademarks are copyright their respective owners. Use of material in this document (including reproduction, modification, distribution, electronic transmission or republication) without prior written permission is strictly prohibited.