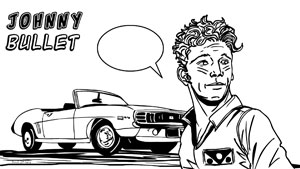 Press Releases
VIZ Media Announces Ranma ½ Anime Blu-ray Set 5
By The Editor
February 17, 2015 - 23:10




VIZ MEDIA PREVIEWS THE HOME MEDIA RELEASE OF RANMA ½ ANIME SERIES SET 5 LIMITED EDITION BLU-RAY BOX SET





Latest Action Packed HD Episodes Of The Legendary Martial Arts Comedy Arrive As A New 3-Disc Blu-Ray Collectable Box Set In Early March; Standard Edition DVD Set Also Announced



VIZ Media, LLC (VIZ Media), the largest distributor and licensor of anime and manga in North America, delivers more RANMA ½ anime action and comedy to fans with the March 3rd home media release of Set 5 of the celebrated gender-bending martial arts action comedy based on the popular manga series created by Rumiko Takahashi.

RANMA ½ is being released as a series of 7 High Definition Limited Edition Blu-ray and Standard Edition DVD Box Sets. The RANMA ½ Limited Edition Blu-ray Box Set 5 carries an MSRP of $54.97 U.S. / $63.99 CAN. The set features Episodes 93-115 on 3 discs, presented in full 1080p High Definition resolution with the series' original, un-cropped 4:3 aspect ratio. The Blu-ray edition also contains a 32-page booklet with individual episode summaries. Bonus features include clean openings and endings as well as series trailers and a special "We love Ranma Part 5 - We love Collecting" segment. The set comes in a gorgeously illustrated chipboard box with embossed foil stamping.

The RANMA ½ Standard Edition DVD Set 5 also features 23 episodes with the original, un-cropped 4:3 aspect ratio, and bonus features that include clean openings and endings and trailers. The Standard Edition DVD set is available with an MSRP of $44.82 U.S. / $51.99 CAN.

In the latest episodes, Sentaro, successor to Martial Arts Tea Ceremony, makes Ranma battle the grand master as his wife to break off his arranged marriage meeting! Though he has no intention of becoming a wife, Ranma's battle spirit heats up when faced with the strength of the grand tea master! After that, the world of martial arts gets even bigger with the introduction of Martial Arts Shogi, Martial Arts Dining, and Martial Arts Calligraphy. What will be the outcome of these battles? Ranma also continues to be surrounded by many weird friends. A new transfer student arrives at school named Gosunkugi, who instantly falls in love with Akane and tries to use curses to eliminate Ranma so he can have her all to himself! The hijinks just won't stop!

RANMA ½ manga creator Rumiko Takahashi is one of Japan's most prolific and respected manga artists and is the creator of several long running series including MAISON IKKOKU, RANMA ½, and INUYASHA – all published in North America by VIZ Media. The spotlight on her prolific career began in 1978 when she won an honorable mention in Shogakukan's annual New Comic Artist Contest for Those Selfish Aliens. Later that same year, her boy-meets-alien comedy series, Urusei Yatsura, was serialized in Weekly Shonen Sunday. This phenomenally successful manga series was adapted into anime format and also spawned a TV series and half a dozen theatrical-release movies, all incredibly popular. Takahashi followed up the success of her debut series with one blockbuster hit after another— MAISON IKKOKU ran from 1980 to 1987, RANMA ½ from 1987 to 1996, and INUYASHA from 1996 to 2008. Other notable works include MERMAID SAGA, RUMIC THEATER, ONE-POUND GOSPEL, and RIN-NE (all also published in North America by VIZ Media).

For more information on RANMA ½ or other award-winning anime titles from VIZ Media, please visit www.VIZ.com.







© Copyright 2002-2019 by Toon Doctor Inc. - All rights Reserved. All other texts, images, characters and trademarks are copyright their respective owners. Use of material in this document (including reproduction, modification, distribution, electronic transmission or republication) without prior written permission is strictly prohibited.