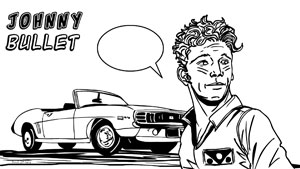 Comics News
Top Trending Pages in July 2016
By Hervé St-Louis
August 5, 2016 - 09:36
12-Johnny Bullet First Issue Cover
This page was a filler but proved to be very popular. I'm not even done with the illustration and the colouring. I wanted to release the first digital issue in August, but I lack the time to get it done. But it's in the works!

11-Are Yaoi Manga the Future of Gay Comics?
This old article comes up every few months. By now, I would argue that indeed, yaoi comics are the most prominent face of gay comics.

10-2016 J-Pop Summit to Celebrate Colorful Japanese Fashion Trends
Press releases don't usually make it this far, but this one about Japanese popular culture cosplay did!

9-Yaoi Manga
This is the homepage for all yaoi manga covered at the Bin in the last decade. There are quite a few reviews here for yaoi fans.

8-Press Releases
Ouch! Press releases are more interesting than our original articles! – Kidding. Lots of information to find out about the world of comics here.

7-Johnny Bullet #80
The aftermath of a car crash into a motel, is the theme of this Johnny Bullet strip! So who survived?

6-Comic News
Comic news are our bread and butter.

5-Johnny Bullet #1
This is where Johnny Bullet started and where you can see how it changes over time! Great spot to start reading the web comic!

4-Comics
This is the homepage for anything comics related at ComicBookBin. It's almost our second homepage (which by the way is never included in these results).

3-Zoroastrianism Comics
The popularity of this article surprised me. It was written years ago to cover a topic that was little explored in comics, for our Comic and Religion column. Perhaps I should update it.

2-RSS Feed for Comics
This article discussing RSS feeds and how they can help comics has proven a major resource and very popular since I wrote it a few months ago.

1-Top 10 Comics of the 1990s
This article has been popular for over a decade. 1990s really resonate with current comics readers.


© Copyright 2002-2019 by Toon Doctor Inc. - All rights Reserved. All other texts, images, characters and trademarks are copyright their respective owners. Use of material in this document (including reproduction, modification, distribution, electronic transmission or republication) without prior written permission is strictly prohibited.