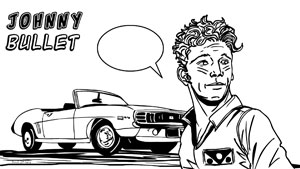 Comics News
Top Trending Pages in May 2016
By Hervé St-Louis
June 15, 2016 - 10:47
Here are the top trending pages at ComicBookBin for May 2016.

12-Manga
ComicBookBin's manga section is one of the most comprehensive anywhere with over 2,133 articles and reviews. Most were written by Leroy Douresseaux. Manga reviews is one thing that ComicBookBin does well. If you're in ton that, explore our wide selection of manga articles.

10-Johnny Bullet #72
When I drew this page, I experimented a lot with visual and musical storytelling. Perhaps this why this page is so popular today! And that's why I love creating Johnny Bullet. I get to create a comic that no publisher would ever dare publish without asking me to reconfigure it totally into something.

9-Press Releases
I often dismiss press releases as not so original contents but they do inform readers about a lot of projects. We used to post far more press releases. We are a bit more selective now, but there is still a lot of information about many projects to be found. Check it out.

8-News
What is comic news has been debated in the comic industry for years. Many of you like our take on news though!

7-Comics
The Comics' page continues to be the unofficial homepage to the Bin. I don't count the home page in any results since it's always the first page people visit. It's an oxymoron to list it. But through the Comics' page, many of you look for stuff that's no longer on the homepage and that's cool!

6-Johnny Bullet
I couldn't be happier that many of you are reading Johnny Bullet to such extent. The English-language homepage has received a few updates last month with all-new character profiles and illustrations. Check it out!

5-Johnny Bullet #1
I'm even more honoured that Johnny Bullet ranks so high. It's the most visited page of the whole series. It means that many of you discovering the comic for the first time are checking out the first strop to start reading from there and get up to date. Johnny Bullet is an important project for me. Thank you for supporting this dream comic of mine!

4-Why Daredevil Is Not on Blu-Ray?
Well, Marvel and Netflix still haven't released season one on Blu-Ray. They don't seem to care about the missed sales opportunities. They are idiots, and many of you agree with me!

3-Fan Films
I bet there is a correlation with Fan Films and Netflix Daredevil but I can't quite identify it.

2-Top 10 1990s Comics
The 1990s are back! Even DC Comics' Bloodline series has comeback. Is Rob Liefeld about to stage a comeback too?

1-Darwyn Cooke's Death
Unlike many people who commented on Darwyn Cooke's death, I had no relationship with him. I saw him once at a conference at FanExpo but that's it. My friend Andy Doan gave him a comic wallet and he was happy about it. But that's it. Many people had more edifying things to say about this cartoonist. He did touch a lot of us. How did he touch you?

© Copyright 2002-2020 by Toon Doctor Inc. - All rights Reserved. All other texts, images, characters and trademarks are copyright their respective owners. Use of material in this document (including reproduction, modification, distribution, electronic transmission or republication) without prior written permission is strictly prohibited.