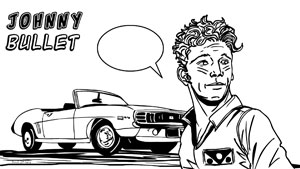 Toy Collecting
Shocker Toys SDCC update
By The Editor
July 16, 2010 - 06:58
shocker toys

Shocker Toys returns to San Diego Comic-Con Booth #3849 with 6 summer exclusive figures, live celebrity interviews, artist signings and toys, toys, toys!

Do you want collectibles? How about Barry Hubris (The Tick), The Blank (Dick Tracy) and Dan Garret (The Blue Beetle)? All are 6" fully articulated action figures and all are limited piece runs. Not attending the show? No problem. These figures are available for purchase on Shocker's online store for a limited time before Comic-Con.

Do you want something, shall we say, less traditional but also collectible? Check out the Mallow exclusives: Hunter Rose (Grendel), Lord Death (Soul Eater) and Luffy (One Piece) Also available at the Funimation and Viz booths). Designer style, articulated and limited release.

Maybe you want to meet some movie stars or comic book legends? Appearing at the Shocker Toys booth courtesy of Coolwaters Productions and Retro Radio Live will be Doug Jones, Kane Hodder, Neil Kaplan, Land---oh, sorry, Billy Dee Williams and many more of your favorite celebs. Among the comic book favorites, the creators of Zen, the Intergalactic Ninja will be signing a one-of-a-kind 3-D poster, Gumby himself will be available for photos and there will be a surprise guest or five or ten (check out www.shockertoys.com for the latest special guest list).

What's that? You're all about the Toys? Well, check out the deep discounts on the last remaining items from the now retired Indie Spotlight Series 1, the first look at IS Series 2, the new Indie Spotlight 2-packs, IS Golden Age Series 1 and the newly designed black blank Mallows and white blank Mallows with accessories.

Any questions? Come interact with Shocker's top brass as well as print artists, customizers and 3d modelers in room 24ABC 6:30pm, Thursday July 22nd. Want to show your love for Shocker Toys? There will be a limited Shocker shirt giveaway at the panel as well as Shocker shirts available for sale at the booth.
© Copyright 2002-2022 by Toon Doctor Inc. - All rights Reserved. All other texts, images, characters and trademarks are copyright their respective owners. Use of material in this document (including reproduction, modification, distribution, electronic transmission or republication) without prior written permission is strictly prohibited.