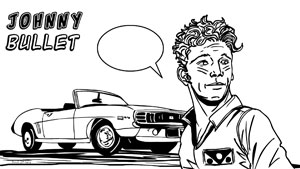 Comics News
Disappear into The Dreaming
By Leroy Douresseaux
Oct 3, 2005 - 16:30


This December, TOKYOPOP Invites Readers to Disappear into ...

The Dreaming

There's nothing so frighteningly delicious as a ghost story among friends: the chilling tale, a dimly lit room, the restless sleep, and, eventually, the dreaming-often filled with nightmares. Now, imagine this nail-biting experience inside a centuries-old boarding school in the dark, impenetrable Australian
outback... TOKYOPOP, invites readers to sleep, perchance to dream, on a journey through the nightmarish world of Queenie Chan's manga, The Dreaming.

Jeanie and Amber Malkin - identical twin sisters - are new students at the 100-year-old Greenwich Private College, a boarding school in North Sydney that lies on the edge of vast, virgin bushlands. After settling in and meeting new friends, the girls learn an unsettling secret: time and time again over the past century, students have wandered off into the wilderness surrounding the school and vanished without a trace ...never to return. Jeanie and Amber begin to discover the mystery behind the disappearances ... and also the reason why the College's creepy vice-principal carries such a prejudice against identical twins."



"The Dreaming has turned out to be one amazing book," says TOKYOPOP editor Carol Fox. "The atmosphere Queenie Chan creates, through both her art and her storytelling, is about as rich and effective as I've seen in any suspense-horror manga."

Queenie Chan was born in 1980 in Hong Kong and migrated to Australia when she was six years old. As a child she read a lot of manga and watched even more anime, which was as popular in Hong Kong then as it is now. As a teenager she enrolled in a 4-year Information Systems degree program, but started drawing manga on the side. Her "big break" came in 2004, when TOKYOPOP began accepting submissions from international artists. Chan, an Australian native, is well known to the fan community with her web comic "Block 6," featured on Wirepop.com. Check out Queenie's website

The first volume of The Dreaming will be available in the manga section of bookstores everywhere in December 2005.

© Copyright 2002-2018 by Toon Doctor Inc. - All rights Reserved. All other texts, images, characters and trademarks are copyright their respective owners. Use of material in this document (including reproduction, modification, distribution, electronic transmission or republication) without prior written permission is strictly prohibited.