XSEED Games announced today that it is currently developing an RPG version of The Wizard Of Oz for Nintendo DS, called The Wizard of Oz: Beyond the Yellow Brick Road, scheduled for release this fall. Licensed by Warner Bros. Interactive Entertainment, and originally released as RIZ-ZOAWD by D3Publisher in Japan, The Wizard of Oz: Beyond the Yellow Brick Road takes a unique perspective on the adventures of Dorothy and her dog, Toto, on their path to the Yellow Brick Road.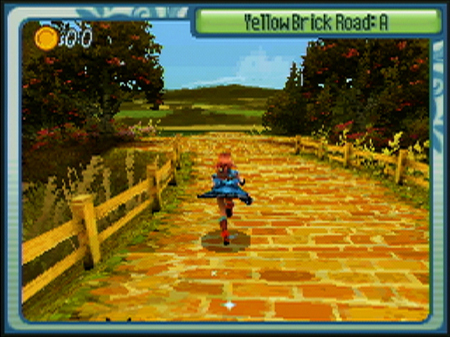 Follow the adventures of Dorothy and Toto as they become RPG heroes. You know the story, don't you? A sudden tornado hits a small farm in Kansas, taking Dorothy and Toto away to Oz. Dorothy learns that the only way to get back home is by following the ominous voice calling her to the end of the Yellow Brick Road (sorry folks, I don't think the Lollipop Guild is going to be greeting her with a song and dance this time around). Soon she'll meet up with the Scarecrow, Lion and Tin Man and embark on a voyage filled with obstacles.
Things take a bit of a different turn though, when the foursome (and dog) reach the castle at the end of the Yellow Brick Road. The group soon learns from a mysterious
wizard that the land of Oz has been taken over by four evil witches who are running amuck. Now, it's up to the group to defeat the witches, all with the hope of simply helping Dorothy get back home.
The Wizard of Oz: Beyond the Yellow Brick Road uses the Nintendo DS' touch screen, allowing players to control everything with a simple touch, swipe or drag of the stylus. In an interesting move though, Dorothy's movement is controlled by the rotation of a trackball on the bottom of the screen spun with the stylus, and the battles, which are turn-based, take place from the first-person perspective. It does include multiple customization options, letting players choose whether to allow the game to recommend the best actions per turn, for expedited play, to manually choose your attacks, for more involved gameplay.
XSEED partnered with D3 Publisher to secure the rights to publish and distribute The Wizard of Oz: Beyond the Yellow Brick Road for North America. The game is being developed by Media.Vision and will be exclusively available for Nintendo DS this fall.
© Copyright 2002-2019 by Toon Doctor Inc. - All rights Reserved. All other texts, images, characters and trademarks are copyright their respective owners. Use of material in this document (including reproduction, modification, distribution, electronic transmission or republication) without prior written permission is strictly prohibited.