German video game publisher Playtainment, an RTL Interactive GmbH company, announced today that Frankfurt-based development studio Keen Games (developer of Ubisoft's Anno: Create a New World and the handheld versions of the upcoming G-Force video game) is preparing to release its casual hidden object/puzzle game, The Mystery of Whiterock Castle, on WiiWare in the late summer. The game's launch will mark the first release of a WiiWare title from a German publisher.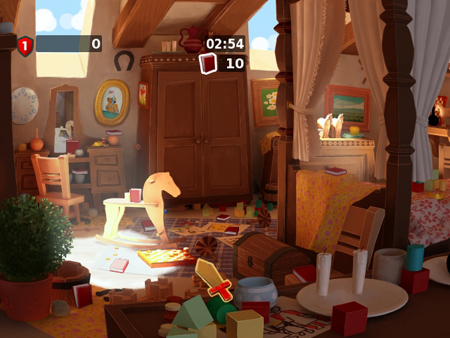 The Mystery of Whiterock Castle follows the story of a young knave's quest to find his playmate, a princess who has mysteriously disappeared from the royal apartments. Armed only with a wooden toy sword and a magnifying glass, you must comb through countless rooms and dungeons throughout the castle in search of the princess. Made for quick pick-up-and-play The Mystery of Whiterock Castle uses simple point and click gameplay, letting even the most inexperienced of players jump into the gameplay with ease. Seek out and collect various objects concealed in 10 different, and meticulously designed, settings, either alone or with friends, in cooperative or competitive modes.
The Mystery of Whiterock Castle also randomly scatters the hidden objects within the levels, so the replay value gets a little bit of a boost, and you get to explore the levels even more. Regarding the upcoming release of the game, RTL Interactive's head of games publishing, Birgit Hönsch, said, "With our entry into one of the biggest online platforms, RTL interactive is paving the way for other German developers in one of the fastest growing distribution models. We will increase our online presence over the coming quarters to deliver premium download titles to gamers worldwide."
The Mystery of Whiterock Castle will be releasing later this summer, exclusively on WiiWare and is not yet rated.
© Copyright 2002-2019 by Toon Doctor Inc. - All rights Reserved. All other texts, images, characters and trademarks are copyright their respective owners. Use of material in this document (including reproduction, modification, distribution, electronic transmission or republication) without prior written permission is strictly prohibited.