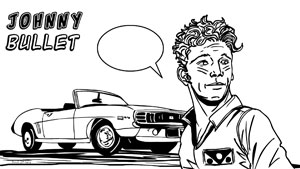 More Comics
TALES DESIGNED TO THRIZZLE #1
By Leroy Douresseaux
September 4, 2005 - 16:25
Publisher(s): Fantagraphics Books
Writer(s): Michael Kupperman
Penciller(s): Michael Kupperman
Cover Artist(s): Michael Kupperman



"Thrizzle," according to the author (cartoonist) of TALES DESIGNED TO THRIZZLE #1, means "to thrill and dazzle." I don't know about the thrill, but I'm certainly dazzled by the array of humor here: parody, satire, farce, slapstick, gags, etc. The stories and vignettes shift narratives, chapters, and storylines like Monty Python. The comedy covers a range of material: infomercials (Mickey Rourke's pubic hair stencils is a brilliant bit), sex, historical figures and places, boy bands (which takes a surreal kind of "Liquid TV" turn), wildlife shows, etc. Fantagraphics has been pushing some fine humor publications in the last year, and Tales Designed to Thrizzle stands close to the best of that material.
While Kupperman's line work is steady and workman like, his strength is in composition. Funny comics should be able to convey the sense of comedy both through words and visuals. His cartoons are a steady (frenetic even) flow of comedy that stays with the reader. There is balance in flow in the contents of each panel that not only accentuate the comedy, but also moves the narrative. I can't imagine how a possible #2 would top this, but I'd like Kupperman to give it a try.

© Copyright 2002-2019 by Toon Doctor Inc. - All rights Reserved. All other texts, images, characters and trademarks are copyright their respective owners. Use of material in this document (including reproduction, modification, distribution, electronic transmission or republication) without prior written permission is strictly prohibited.