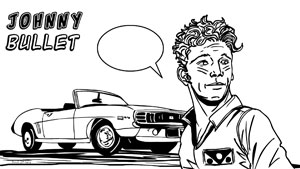 Marvel Legends
Silver Surfer Action Figure
By Hervé St-Louis
April 16, 2006 - 12:19

The Silver Surfer first appeared in Fantastic Four #48, 1966 to announce the coming of Galactus, the Devourer of worlds. As Galactus' herald, he soared space for worlds capable of satisfying his master's hunger. Betraying his master, the former astronomer from the planet Zenn-La was banished on Earth for years trying to understand the planet's population. The Marvel Legends Silver Surfer action figure is the first for this line, but not the first made by Toybiz.



Likeness



It's not difficult to miss a portrayal of the Silver Surfer. He is a naked man with silver coating. Differences are usually found in the character's skull. The figure closely resembles the inverted triangle alien shaped head he got in the series published in 2003, rather than the Jack Kirby design or John Buscesma's. His eyes are wider and his jaw very thin. He looks like the classic alien image.



Sculpt






The sculpt is fine, although the surfer's legs are shorter than his torso. As the Silver Surfer, one expect a more slender body and elongated legs. His shoulders give him a buffed look. The Silver Surfer's hands are pointing forward, as if he were riding his board. His head is a little too small for his body, considering he has the inverted triangle head. Yet the figure looks fit and strong, a hallmark of the Silver Surfer.






Paint



Toybiz used something close to vat metal painting, but not exactly. It makes the figure's silver coating look better than those of DCDirect's Captain Atom for example. There are hints of blue all over the Silver Surfer's body to make him resemble his comic book counterpart. The paint is tough, but can easily be scratched or damaged. The more one handles the figure, the less shiny the figure will be and the silver coating will turn dark grey.



Scale



The Silver Surfer is not one of Marvel's heavy weight in terms of height. He's about the same height as the Spider-man Classic Daredevil or Iceman. He'll fit well with both of them too. Of course all Marvel Legends action figures and those from the Spider-man and the X-Men lines are in scale to one another. Next to Galactus, the Silver Surfer looks great too, although in this case, it is Galactus who is too small.



Stability






On his own, the Silver Surfer is stable with flat feet. His ankle and hip joints are weak though and he may not support himself for long. However, the highlight of this figure is to put him on his surfboard where he is stable, thanks to the two magnets in his heels. That mean you can pose him on the surfboard and he will still keep his balance. The real balancing act is to get the surfboard, pinned on a meteorite base to stay up.



Articulation



The Silver Surfer has 36 articulations at the neck, the shoulders, the biceps, te elbows, the forearms, the wrists, the palms, the abdominal, te waist, the hips, the thighs, the knees, the calves, the ankles and the toes. The Silver Surfer's shoulders have a hidden joint mechanism allowing him to extend his arms wider. The articulation in this figure's arms is so complex that he can almost cross them. His elbows, hips and knees have double articulations.



Plastic






The Silver Surfer's plastic is tough, but can grind at the edges easily if you pose him too much. The plastic is soft and will resist kids' hardships, but it the articulation is not as tough. When posed on the board for long periods, the ankles may start to bend and twist. I suggest changing poses once a week to stop the figure's plastic from adopting one mould.



Props



Howard the Duck, a star of Marvel Comics' 1970s comes with the Silver Surfer. Howard the Duck was created in 1973 by Steve Gerber and first appeared in a Man-Thing story published in Fear # 19. He was a surrealist character with mature stories. Having been a Defender, just like the Silver Surfer probably explains why he was included in the set. The figure can be seen as a bonus. It would have been more appropriate to release it with the Man-Thing figure.




Howard is like one of those fast food restaurant toys for kids. He has but four articulations at the neck, the shoulders and the waist. He's tough though. His sculpt is detailed and his looks are directly taken from the comic books. He has a nice paint job and is a cool deal for fans of the character and his 1986 film.



Diorama



The surfer's board si more than a prop for the Silver Surfer. It's part of him. The board is made of plastic and metal. The metal parts allow one to pose the Silver Surfer on the board in various ways. There's a plastic arm under the board, connecting it to a meteorite base. To best pose the Silver Surfer on his board, you'll have to play with the arm under the board to achieve the best stability.

You can even pose the Silver Surfer on a wall, since the meteorite base has a hole for pins. Twisting the arm, under the board, allows the board to stay horizontal. However, if you put the Silver Surfer and his board on a wall, be aware that eventually, the arm will not support the figure and it will fall down. Prepare padding under the figure for the day it will fall.



Packaging



The Silver Surfer comes in a bubble box package that one should open with scissors. There's a reprint of Silver Surfer # 17bin the package drawn by Stan Lee and John Buscesma. The back of the figure features some stats on the character, a brief bio and pictures of other toys in the Marvel Legends Series 5 line.



Cost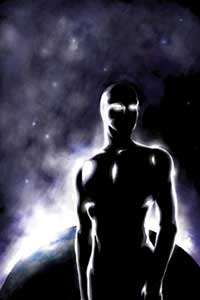 The cost of the Silver Surfer depends on where you purchased the toys. Large retailers have better prices than small comic book stores or Internet boutiques. This figure can retail anywhere from $8 to $25.



Availability



Released in late 2004, the figure is almost out of stock. Only a few stores still have samples left. At first, the figure stuck around gathering dust in many stores, and eventually, availability just ended. You may find it at auction Web sites for considerably more money.






















© Copyright 2002-2021 by Toon Doctor Inc. - All rights Reserved. All other texts, images, characters and trademarks are copyright their respective owners. Use of material in this document (including reproduction, modification, distribution, electronic transmission or republication) without prior written permission is strictly prohibited.