Ryu is the popular Street Fighter Japanese character, given to Master Gouken as a baby by his mother. With Gouken, he learned the deadly martial art Ansatsu-Ken. Ryu debuted in the first Street Fighter game released in 1987 and has been in every version of the game since. It is only fitting that Sota would release a figure of one of the most popular Street Fighter in its 15th Anniversary release, and it's a great figure!


Likeness


Trademarks of Ryu are his ripped garments, his read bandana, brown hair, huge hands and feet. Of course, the figure has them all. The shoulder openings of Ryu's gi are ripped. The bottoms of his pants are too. The front of Ryu's gi is more unfolded than other some versions of Street Fighter where it's almost closed. Of course, Ryu's eyebrows are thick. Overall, the figure is a good rendering of Ryu.


Sculpt


The sculpt is perfect. It is as easy to put Ryu in a vanilla pose as placing him in an action stance. Ryu's head is smaller than it should be as it's influenced by Anime designs and the games from which he hails. Veins are ripping out of his arms and legs. The alternate shouting head looks determined. The clasping hands are almost tiger-like. The fists look like they can hurt you. Notice the Japanese markings on Ryu's belt.


Paint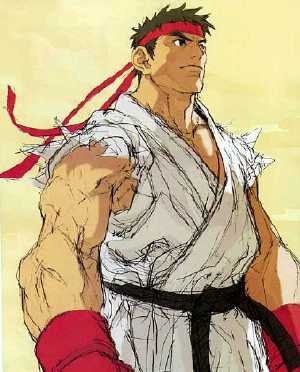 The paint job is great. Sota shaded his skin and clothing. It makes the character looks more natural. There's little red on his cheeks, while his kimono has bluish tints in its folds. It's too bad that Ryu's hairs have no hues. The paint in Ryu's gloves spills on his hands. Check the details that Sota put in Ryu's shouting alternate head. Sota has fully painted his tongue and mouth. The paint is not very resistant to dirt though.

Scale

Ryu, of course, fits with other Sota Street Fighter action figures but also with Marvel Legends, for those of you who would like to do a couple of Capcom versus Marvel games! Ryu is shorter than Sagat, Bison and Sodom. He's a little bit higher than Chun Li. Ryu's proportions might be the mean average of the Street Fighter line. Although his head is smaller.

Stability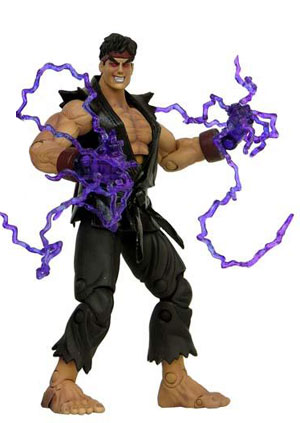 Ryu is very stable, although his feet are not completely flat. His toes are sculpted under his soles too. Ryu's weight is well balanced through two strong legs. Even when posing him, you will have no difficulty with achieving equilibrium with this figure. Nevertheless, none of the Street Fighter figures come with action figure stands. That's the only things they lack.

Articulation

Ryu has 27 articulations at the neck, the torso, the waist, the shoulders, the biceps, the elbows, the wrists, the palms, the hips, the thighs, the knees, the ankles, the feet and the toes. Ryu's head, and hips have ball joints. At the shoulders different types of ball joints with a cut are found. They have covered the articulation in the torso by Ryu's gi, making it difficult to use. Ryu's knees have double joints. Sota masks articulation well, unlike Toybiz's Marvel Legends figures.

Plastic


Sota uses PVC without ABS plastics for the legs and arms. It casts arms and legs in the final tone of the figure to reduce damage that can occur when paint added on the figure freezes and stifles the articulations. As Ryu has no paint coating on top of his feet and lighter coatings on his hands, there are fewer problems. The figure is resistant, although very easy to scratch. The gi and the bandana are in softer rubber.

Props

Ryu comes with a duffle bag with a rope that will fit around his shoulder. As Ryu travels the world, trying to perfect his martial arts' skills, this is a great addition. Of course, there are two sets of hands and an alternate head.

Packaging

The packaging is a self-contained plastic bubble. You must use scissors to open it. Inside the package, there's a flyer with Ryu's bust. It's the same for all figures. There's a small picture with Ryu's face at the bottom. The back of the package shows the other figure in the 15th Anniversary wave. The packaging is not environmentally friendly. Also, many wires hold Ryu inside the bubble with two extra clear plastic casts.

Cost

Sota Street Fighters cost about twelve dollars and more. Check Quicksand Collectibles for good prices on the figures. Other stores sell the figures for more. Even at around $15 or $18, this figure is a deal, considering all the features once gets for the price. The articulation is better than most DC Direct action figures and they are better hidden than the average Marvel Legends.

Availability


These figures are available from several online stores and some specialized stores. It doesn't seem like chains like Toy R Us or Walmart have them in stock. There's an evil Ryu version that shipped in August. It's not available everywhere but is the same figure with a different paint job. As one of the most popular Street Fighter character, don't expect Ryu to remain available for long. So if interested, act now.

© Copyright 2002-2022 by Toon Doctor Inc. - All rights Reserved. All other texts, images, characters and trademarks are copyright their respective owners. Use of material in this document (including reproduction, modification, distribution, electronic transmission or republication) without prior written permission is strictly prohibited.