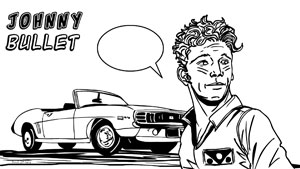 DC Comics
Enemy Ace: War in Heaven TPB
By Leroy Douresseaux
September 23, 2003 - 15:49
Publisher(s): DC Comics
Writer(s): Garth Ennis
Penciller(s): Chris Weston, Christian Alamy, & Russ Heath
Cover Artist(s): Jim Dietz
ISBN: 1563899825

Garth Ennis

sure is a good writer. Hand him a pen and let him loose on some story about war, combat, special ops, mercenaries, etc, and he weaves a sprawling adventure of machismo and unbridled violence. He does this with an amazing and subtle sense of wit and humor and a deep sense of human frailty. That his

Enemy Ace: War in Heaven

should turn out to be creatively lazy and ideologically retarded is a shock.

Known for such works as

Preacher

and

The Punisher

, Ennis has produced some well-received war stories for DC's Vertigo imprint, so it was inevitable that Ennis would eventually tackle DC's Silver Age "villain"

Enemy Ace

. Created by

Robert Kanigher

and

Joe Kubert

Ace was

Hans Von Hammer

, a German fighter pilot who terrorized the European skies of World War I. Ace's popularity has endured long enough to see many well-known comic book creators pay homage to him.



War in Heaven

was a two-issue mini-series published in 2001. The series picks up in 1942, and Von Hammer, 46 years old and living on the Bavarian family estate, has long since retired from the work that earned him the moniker

The Hammer of Hell

. Russia is fighting Germany and Adolf Hitler. An old friend convinces Von Hammer to become a pilot again in order to train Germany's new fighter aces. The Enemy Ace, however, learns all to soon what he already suspected, the Germany for which he now fights is not the Germany of his youth.

Although War in Heaven is a very good read, Ennis has a decidedly British take on Von Hammer. Ennis reconciles the Ace who fought for WWI era Germany with the man now at odds with WWII era Nazi Germany. It is so pat and so obvious to make Von Hammer a "good guy," if he hates the Nazi's. Hammer's rejection of the Nazi's is a foregone conclusion without dramatic impact. It's easy to make Von Hammer disdainful of Nazi's, especially if you're a British writer.

The real dilemma would be the tale of a man who fights to protect his homeland to the last second of his life knowing that he's also defending something that fundamentally disturbs him. Under Ennis's pen, Von Hammer is not German: he's a sarcastic Brit who makes snide remarks about the German High Command. Von Hammer considers Hitler and his ilk to be idiots, and he doesn't take them seriously, an unrealistically naïve attitude from a man who has already killed for Germany, especially when the rest of the world had to take the Nazi's very seriously.

The art is serviceable, but what it lacks in spectacular layout, it makes up for in imaginative interpretations of aerial firefights, duels, and gritty drama. Of the three series artists,

Chris Weston

is the standout, the one who puts his all into every panel, and every line and every brushstroke simply dazzles the eyes. He really bears down to create the correct sense of atmosphere, setting, mood, and character, showing an almost anal need to get it right.

As a bonus in the trade, DC includes a classic Silver Age Enemy Ace tale from

Star-Spangled War Stories #129

. The story is nice, but if any fan of comics wants to see why so many creators reverently speak artist Joe Kubert's name, it's because of his virtuoso display of drawing skills in so many comics. Just Kubert's renditions of air combat in this Enemy Ace tale alone justify War in Heaven's $14.95 price tag.


© Copyright 2002-2020 by Toon Doctor Inc. - All rights Reserved. All other texts, images, characters and trademarks are copyright their respective owners. Use of material in this document (including reproduction, modification, distribution, electronic transmission or republication) without prior written permission is strictly prohibited.