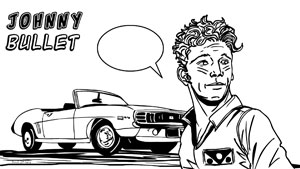 Comics News
Top Shelf Comics for June 2004
By The Editor
Feb 15, 2004 - 11:01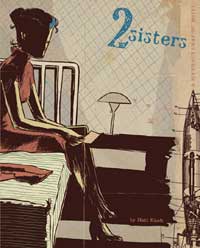 2 SISTERS

by Matt Kindt

From the artist and co-creator of Pistolwhip and Mephisto, comes an all-new World War II era spy thriller that spans not only the globe, but time as well -- from England to Spain and from ancient Roman times through the era of Pirates and Buccaneers. This daring spy story is the backdrop for the unique tale of two sisters, their relationship and the secrets they share. Weighing in at well over 300 pages, this epic has everything -- shady gypsies, mysterious rockets, buried treasure, pen-guns, cyanide teeth and romance. This will be the thrill ride of the year.

-- $19.95 (US), 336 pages, 8 1/4" x 10 1/4", Color Cover, B&W Interiors,

Graphic Novel, ISBN 1-891830-58-9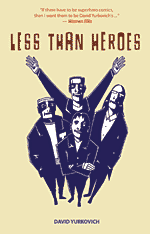 LESS THAN HEROES

by David Yurkovich

In the city of Philadelphia there is a tall building at 18th and Market Street, atop of which lives four individuals. They are the official protectors of the city. Their job is to be around when traditional law enforcement fails. But are they really heroes? Meet Philadelphia's contracted super-hero team, Threshold. A quartet more interested in milk and cookies than crime and punishment. A team more concerned with battling indigestion than their arch enemies. Sure, they have super-powers. They can leap tall buildings, fly, and do all the stuff other heroes do. More than human? Probably. Less than heroes? Without a doubt.

-- $14.95 (US), 128 pages, 6.5" x 10.5", Color Cover, B&W Interiors,

Graphic Novel, ISBN 1-891830-51-1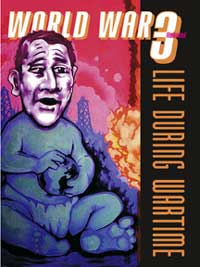 WORLD WAR 3 ILLUSTRATED # 35: LIFE DURING WARTIME

Edited by Seth Tobocman & Peter Kuper

Top Shelf proud to present the latest edition of WORLD WAR 3 ILLUSTRATED. In this issue the WW3 gang asks the question: "Are you better off today than you were four years ago?", and gets some insightful answers from cartoonists like: Sue Coe, Peter Kuper, Seth Tobocman, Sabrina Jones, Sandy Jimenez, Issabella Bannerman, Paula Hewit, Susan Wilmarth, Kevin Pyle, Christopher Cardinale, Ryan Inzana, Kate Evans and others. WORLD WAR 3 ILLUSTRATED is the longest running comics zine in history, and this cutting-edge, politically charged publication is not to be missed. Distributed by Top Shelf.

-- $5.00 (US), 72 pages, 8" x 10.5", Color covers, B&W Interiors, Saddle

Stitched, Anthology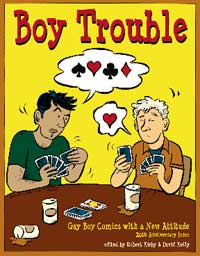 BOY TROUBLE: 10TH ANNIVERSARY ISSUE

Edited by Robert Kirby and David Kelly

"This collection of comics captures with grace and humor -- and frequently profound insight -- the joys, pressures, and contradictions of being gay in America." -- Dan Savage, Savage Love … Editors Robert Kirby and David Kelly celebrate Boy Trouble's 10th anniversary with some of today's best gay and lesbian cartoonists as they riff on the alternative boy aesthetic. Jennifer Camper's protagonist spends a whirlwind day with his juvenile delinquent dyke sister; Ivan Velez, Jr. chronicles the heartaches of the well-endowed; and Craig Bostick captures the bittersweet angst of teen rock'n'roll boys. Kelly and Leanne Franson explore alienating bar life; Kirby and underground legend G.B. Jones present an encounter with an artsy adolescent; and Andy Hartzell offers a whimsical and beautifully drawn 12-page fantasy. Also featured: Cavalcade of Boys creator Tim Fish, Anonymous Boy, C. Bard Cole, and Michael Fahy. Distributed by Top Shelf.

-- $8.95 (US), 80 pages, 7" x 8.5", Color Cover, B&W Interiors, Perfect

Bound Anthology, ISBN 0-9748855-0-9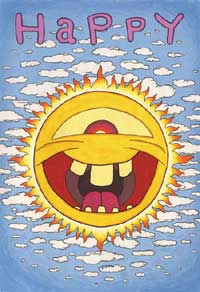 HAPPY PACK

by Josh Simmons

Laugh hysterically and weep desperately to the maliciously deranged comics of Josh Simmons, wherein you'll find aggressively experimental stories on: Insanely ecstatic bunnies, and the world they inhabit, the joys of scholastic enterprise, a dressing down of autobiographical comics, the true traveling shenanigans of a cirkus/gypsy performing group, scary monsters, sultry ladies, laffs & more! The HAPPY PACK contains all 4 issues of Josh Simmons' controversial mini-series, HAPPY for the low price of ten bucks.

-- $10.00 (US), Mature Readers, 4 comic book issues (Happy #1 - #4) all

packaged together.
© Copyright 2002-2018 by Toon Doctor Inc. - All rights Reserved. All other texts, images, characters and trademarks are copyright their respective owners. Use of material in this document (including reproduction, modification, distribution, electronic transmission or republication) without prior written permission is strictly prohibited.