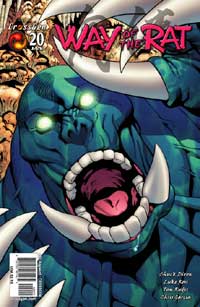 New Artist, New Ring...Same Ol' Bad Luck For Boon!



This week holds a couple surprises for Boon Sai Hong. First, the tremendously talented Luke Ross joins the WAY OF THE RAT creative team as new penciler. Second, a warrior that the Jade Rat never thought he'd encounter has arrived at the frontier city of Zhumar...and, like our bumbling thief, possesses a magical ring! Who is the stranger, what ring does he wear, and what does he want with Boon? Check out the following seven pages for some of the answers, then discover more on December 17th when writer Chuck Dixon, penciler Luke Ross, inker Tom Ryder, and colorist Chris Garcia deliver WAY OF THE RAT #20!

© Copyright 2002-2019 by Toon Doctor Inc. - All rights Reserved. All other texts, images, characters and trademarks are copyright their respective owners. Use of material in this document (including reproduction, modification, distribution, electronic transmission or republication) without prior written permission is strictly prohibited.