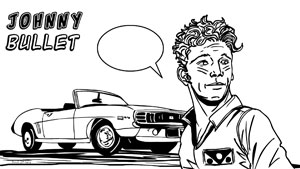 Comics News
Way of the Rat # 19
By The Editor
November 22, 2003 - 11:44
Spy Fans Get Sneak Peek Of Perkins & Hennessy's Stuff!

Those intrigued by the early images from KISS KISS BANG BANG can get a book-length taste for the art team of penciler Mike Perkins and inker Andrew Hennessy when WAY OF THE RAT #19 leaps into stores this week. As the Silken Ghost battles the swarm of spirits that plague the city of Zhumar, readers can see that Perkins and Hennessy certainly know how to deliver fine-looking female fighters! And with Chuck Dixon writing and Chris Garcia providing the hues, you'll get the total package on November 19th.

© Copyright 2002-2019 by Toon Doctor Inc. - All rights Reserved. All other texts, images, characters and trademarks are copyright their respective owners. Use of material in this document (including reproduction, modification, distribution, electronic transmission or republication) without prior written permission is strictly prohibited.