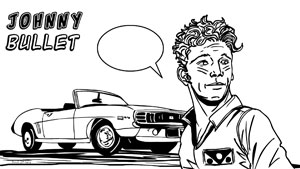 Press Releases
Robots versus Princesses
By The Editor
May 9, 2016 - 13:57
Writer(s): Todd Matthy
Penciller(s): Nicolas Chapuis

Are you #TeamRobot or #TeamPrincess? Sides must be chosen in Robots vs Princesses, a brand new all ages comic book that's launched on Kickstarter.

Created by writer Todd Matthy and artist Nicolas Chapuis, Robots vs. Princesses is a delightful, all-ages adventure about courage, friendship, growing up, and accepting others that is appropriate for young readers without talking down to them.

Industry pros are raving about Robots vs. Princesses with Mark Waid stating, "Finding this comic was a delightful surprise. Don't hesitate to back it. You won't be sorry," along with a MAJOR publisher who has agreed to put out the book once it's funded.

Check out Robots vs Princesses' Kickstarter.

© Copyright 2002-2019 by Toon Doctor Inc. - All rights Reserved. All other texts, images, characters and trademarks are copyright their respective owners. Use of material in this document (including reproduction, modification, distribution, electronic transmission or republication) without prior written permission is strictly prohibited.