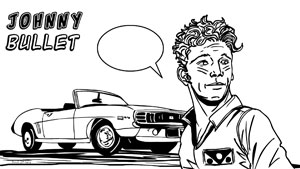 Manga
Nisekoi: False Love Volume 4 manga review
By Leroy Douresseaux
July 1, 2014 - 18:53
Publisher(s): Viz Media
Writer(s): Naoshi Komi, Camellia Nieh
Penciller(s): Naoshi Komi
Letterer(s): Stephen Dutro
ISBN: 978-1-4215-6584-2
$9.99 U.S. $12.99 CAN, £6.99 U.K., 192pp, B&W, paperback
Rating: T (Teen)

Follow me on Twitter.

Rated "T" for "Teen"

It is hate at first sight.

Raku Ichijo

and

Chitoge Kirisaki

are two high school students forced into a sham relationship because of their fathers, both of whom head yakuza syndicates. To stop a gang war, Ichijo and Kirisaki pretend to be a couple, although they cannot stand each other. In fact, Ichijo is searching for his childhood sweetheart. He wears a pendant lock around his neck as a memento of the promise he made to a mystery girl 10 years ago.

As

Nisekoi: False Love

, Vol. 4 (subtitled

Making Sure

– Chapters 26 to 34) begins,

Seishiro Tsugumi

, Chitoge's teen bodyguard, receives a love letter from

Toru Suzuya

, a handsome boy on the school's soccer team. She doesn't know what to do with it, as she has never before received one. Plus, she secretly admires Ichijo.

Ichijo and Onodera shop for a birthday gift for Chitoge, so he decides to use this opportunity to ask Onodera a very important question. Also, Ichijo and Chitoge attempt to find out if his pendant lock matches her key. Finally, enter

Marika Tachibana

, and more trouble for Ichijo.



THE LOWDOWN:

The

Nisekoi: False Love

manga is a romantic comedy driven by the comedy. Romance complicates Ichijo's life in ways that are funny to the readers; his misery is our humor.

This energetic shonen manga takes elements from a few genres, including the yakuza comedy; the explicit violence is exchanged for mock violence and gunplay.

Nisekoi

is also something of a fanservice shonen manga (like

Strawberry 100%

), but that is less evident in the latest graphic novel,

Nisekoi: False Love Volume 4

.

Creator

Naoshi Komi

piles on the obstacles for Raku Ichijo, but every new supporting player makes

Nisekoi

worth reading. All that girl trouble makes this a sparkly teen comedy for teenaged males, not of the Seth Rogen variety, but of the shonen variety. By the end of each volume, the new troubles make the next volume worth reading, and I am certainly ready for more.



POSSIBLE AUDIENCE:

Readers looking for offbeat shonen love will want to try

Nisekoi: False Love

.







© Copyright 2002-2019 by Toon Doctor Inc. - All rights Reserved. All other texts, images, characters and trademarks are copyright their respective owners. Use of material in this document (including reproduction, modification, distribution, electronic transmission or republication) without prior written permission is strictly prohibited.