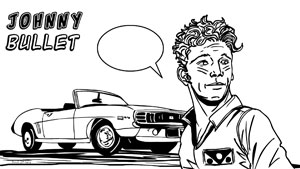 Comics News
Baltimore Comic-Con Brings the Classics to Charm City
By The Editor
May 11, 2011 - 03:27
Baltimore Comic-Con

They say that a classic never goes out of style and that statement couldn't be truer of the creators just added to the line-up of this year's show! We are proud to announce the addition of Nick Cardy, Jose-Luis Garcia-Lopez, Kevin Nowlan, and Michael Golden to the growing guest list for the 12th annual Baltimore Comic-Con, taking place August 20-21, 2011.

Nick Cardy is best known for his work on such DC Comics books as Aquaman and Teen Titans. His artwork has been featured in nearly every comic genre, including western, jungle, crime, super-hero, romance, science fiction, humor and horror. Most recently, Cardy's work was featured in the book Nick Cardy: The Art of War, a lavish, full-color volume that highlights the sketches and illustrations he made while serving in Europe during World War II.

Next up, we've got Jose-Luis Garcia-Lopez, who, in 2009, penciled an arc of DC's Batman Confidential with Kevin Nowlan providing inks for the 3-issue story. Garcia-Lopez began working for Charlton Comics during the 1960s. After meeting editor Joe Orlando, he quickly moved over to DC where he has spent most of his long career. He also recently worked on the Metal Men strip featured in DC's Wednesday Comics.

Nowlan, who is a true master of various comic disciplines, has worked in comics as a penciler, an inker, a colorist, and a letterer. His work has graced pages featuring characters such as Superman, Doctor Strange, Moon Knight, and Man-Thing. He was featured in TwoMorrows Publishing's Modern Masters, a series which celebrates that lives and work of today's greatest artists, in 2004.

Finally, Michael Golden returns to the Baltimore Comic-Con for another year. Having worked on dozens of books in his 30+ year career, Golden is the co-creator of both Marvel Comics' Rogue and Continuity Comics' Bucky O'Hare.

"We are so excited to be adding these four creators to our guest list," said Marc Nathan, show promoter for the Baltimore Comic-Con. "Their work in the world of comics inspired an entire generation of artists. They are legends in every sense of the word and truly put the 'class' in classic."

In addition to Cardy, Garcia-Lopez, Nowlan, and Golden, confirmed guests for the show including: Jason Aaron (Scalped, PunisherMAX); Charlie Adlard (The Walking Dead); Cliff Chiang (Greendale); Frank Cho (50 Girls 50, X-Men: Schism, New Ultimates); David Finch (Brightest Day, Batman: The Dark Knight); Ron Frenz (Spider-Girl); Mike Grell (Action Comics, The Pilgrim); Steve Hamaker (Bone); Jamal Igle (Supergirl, Zatanna); J.G. Jones (Doc Savage, DC Universe Legacies); Barry Kitson (Secret Invasion, Amazing Spider-Man); Laura Martin (New Avengers, Thor); Mark Morales (Fear Itself cover artist); David Petersen (Mouse Guard); Brandon Peterson (Ultimate Vision, Strange); Stan Sakai (Usagi Yojimbo); Walter Simonson (Thor); Jeff Smith (Bone, RASL); and Nick Spencer (Morning Glories, Iron Man 2.0).

In coming weeks, look for more announcements from the Baltimore Comic-Con. We are looking forward to highlighting our guests, the Harvey Awards, industry exclusives, and programming. The latest developments can always be found at our website, Twitter, Facebook, and MySpace pages.

This year's Baltimore Comic-Con will be held August 20-21, 2011. Convention hours are Saturday 10 AM to 6 PM and Sunday 10 AM to 5 PM. The ceremony and banquet for the Harvey Awards will be held Saturday night, August 21th.
© Copyright 2002-2019 by Toon Doctor Inc. - All rights Reserved. All other texts, images, characters and trademarks are copyright their respective owners. Use of material in this document (including reproduction, modification, distribution, electronic transmission or republication) without prior written permission is strictly prohibited.