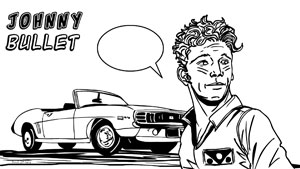 Comics News
Facebook Visionary Mark Zuckerberg Biography Comic In Stores
By The Editor
February 23, 2011 - 02:45
Bluewater

In the Oscar-nominated movie "The Social Network", Facebook founder and CEO Mark Zuckerberg is portrayed as a detached, cold and calculating internet visionary. This week, a more balanced portrayal of Zuckerberg hits stands this week in the form of a Bluewater Productions biography comic.

"Mark Zuckerberg: Creator of Facebook," a 48-page giant-sized issue written by freelance journalist Jerome Maida and illustrated by Sal Field, is scheduled to hit newsstands, comic book stores and online venues on Wednesday.

"This is a fascinating story," says Maida. "I enjoyed researching it because it's extremely compelling. Think about it. Mark Zuckerberg is the youngest billionaire on the planet and created something that has already had a profound impact on the world. Yet hardly anyone knows much about him. It's amazing."

According to Maida, the script doesn't shy away from the harsh reputation Zuckerberg earned as a result of his business practices and aloof public persona, but tries to give context to a complex figure.

"Rightly or wrongly, Mark dealt harshly with some people on his way to where he is today", says Maida. "As we see, he left many people feeling betrayed. I try my best to be fair here. No one is totally innocent in this story. I try to represent each of the major players' point of view."

This take on Zuckerberg's life and career prompted production company Hayden 5 Media to option the script and create an animated film based on the comic book.

According to Todd Wiseman, President of Hayden 5, the proposed film will apply an interpolated rotoscoping technique to give the project a unique comic book aesthetic. This cross between real characters and animated surrounding was used in the movie A Scanner Darkly.

The special edition title retails for $6.99 and is available through comic book shops. To find a comic book store near you download one of the ComicBookBin apps.
© Copyright 2002-2019 by Toon Doctor Inc. - All rights Reserved. All other texts, images, characters and trademarks are copyright their respective owners. Use of material in this document (including reproduction, modification, distribution, electronic transmission or republication) without prior written permission is strictly prohibited.