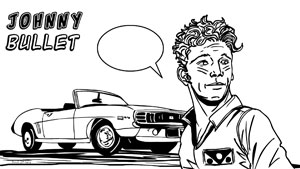 Comics News
War Fix In Top Ten
By David Seidman
November 16, 2006 - 13:03
Book About Combat Addiction in Iraq Earns Plaudits

Two major voices in the book industry have selected NBM ComicsLit's graphic novel WAR FIX, by David Axe and Steve Olexa, as one of the best books of 2006.

The editors of Amazon.com have placed WAR FIX on its list of 2006's ten best graphic novels.

WAR FIX is combat journalist David Axe's journal of dealing with his addiction: the sheer excitement of being in battle. With gritty, you-are-there art by Steve Olexa, WAR FIX is a new form of visceral comics journalism.

In addition, the American Library Association's Young Adult Library Services Association has nominated the book for its list of Great Graphic Novels. The full list, which also includes NBM's TRAILERS and THE CASE OF MADELEINE SMITH.

© Copyright 2002-2019 by Toon Doctor Inc. - All rights Reserved. All other texts, images, characters and trademarks are copyright their respective owners. Use of material in this document (including reproduction, modification, distribution, electronic transmission or republication) without prior written permission is strictly prohibited.