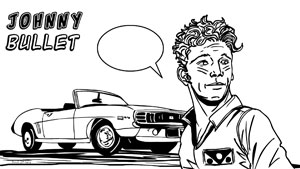 Comics News
New volumes of Pogo Reprints Delayed
By Hervé St-Louis
July 31, 2008 - 22:23
After a reader asked The Comic Book Bin about the new Pogo books announced last year by Fantagraphics Books, we asked Fantagraphics Books to provide us with an update on the status of the new volumes announced. Eric Reynolds from Fantagraphics Books had this to say about the delay; "securing source material to reproduce from for the first couple years proved to be much more difficult than anticipated, so we're just plugging away at it and will re-announce once we have everything and know we can stick to the schedule we announce... It'll be worth the wait!"

Fantagraphics Books already published several

Pogo

volumes throughout the 1990s. The new series of volumes announced in 2007 would be more comprehensive than the first series published earlier.

Former Disney Studio animator, Walt Kelly created

Pogo

, a comic strip featuring an anthropomorphic possum and animals who through double entendre reflect ironically and satirically on American society from 1949 to 1973. Reynolds estimates that the first volume should be available by fall 2009.


© Copyright 2002-2019 by Toon Doctor Inc. - All rights Reserved. All other texts, images, characters and trademarks are copyright their respective owners. Use of material in this document (including reproduction, modification, distribution, electronic transmission or republication) without prior written permission is strictly prohibited.