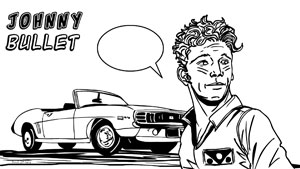 Comics News
Western Pirates
By The Editor
July 10, 2008 - 19:27
BOOM! Studios announces its latest mini-series, GALVESTON, a swashbuckling historical epic based on true events where cowboys and pirates collide, written by Tom Peyer and Mark Rahner and featuring interior art by Greg Scott.

Series editor Mark Waid said, "When publisher Ross Richie told me that the famous French pirate Jean Lefitte--true story--lived his later years in Galveston, Texas with his best friend, frontier legend Jim Bowie, inventor of the Bowie knife, I was gobsmacked. First off, I honestly thought that Jean Lafitte was the pirate who fought Cap'n Crunch. Second, the notion of Galveston being a Deadwood-type town run by a mad pirate had me screaming, 'put this on the schedule right away! Why am I not already reading this book?' "



Focusing on these early exploits of Jean Lafitte and Jim Bowie, GALVESTON is an over-the-top thriller of blood, guts and revenge. Utilizing an extensive knowledge of the time period, Peyer and Rahner take history and turn it into an action-packed adventure comic that fans are guaranteed to love.

"It's a cowboys-and-pirates fable about the famous privateer Jean LaFitte and Texas icon Jim Bowie," said Peyer. "It's six-guns vs. cutlasses, heroic rescues and hair's-breadth escapes, seasoned with glimpses into the real personalities of these two legends and omens of their futures."



"Bowie could throw down," said Rahner. "This is the dude who once had a gun broken over his head, then got run through with a sword cane, and while the attacker was planting a foot on his chest to pull out the sword, Bowie gutted him with his legendary big knife. Then he got shot and stabbed again while the sword was still hanging out of him. This won't be any PIRATES OF THE CARRIBEAN."

GALVESTON #1 cover A and cover B features art by Jeffrey Spokes, with a Diamond item order codes JUL083760 for cover A and JUL083761 for cover B.



© Copyright 2002-2019 by Toon Doctor Inc. - All rights Reserved. All other texts, images, characters and trademarks are copyright their respective owners. Use of material in this document (including reproduction, modification, distribution, electronic transmission or republication) without prior written permission is strictly prohibited.