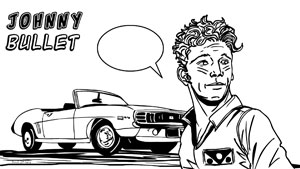 Comics News
Sidekickin
By The Editor
April 22, 2007 - 16:02
It's usually the star superhero that gets all of the attention, but the cosmic powered heavyweights of the world aren't the only good guys slipping on tights to right the wrongs of evildoers. Viper Comics offers readers a comedic look at the lesser loved companion character in this May's Sidekickin, a story that is sure to motivate the masses into cape crusading.

"As a company, we try to stay away from one-shots, but when this book was pitched to us, we just all collectively enjoyed it so much that we had to publish it," states Viper Comics President Jessie Garza. "It has a little bit of everything for everyone and we believe it has the potential to really connect with fans of both superhero stories and those that are into the more indie-type fare."

Written by Dale Mettam with art by Drew Moss, Sidekickin follows the story of Buddy Neben, sidekick of Major Hero, champion of Bully City. When a giant robot lays waste to City Hall, only Buddy can save the day and that's because Major Hero can't remember his own name, let alone his secret identity and powers. The book also features a back-up story by Courtney Huddleston (A Bit Haywire).

© Copyright 2002-2019 by Toon Doctor Inc. - All rights Reserved. All other texts, images, characters and trademarks are copyright their respective owners. Use of material in this document (including reproduction, modification, distribution, electronic transmission or republication) without prior written permission is strictly prohibited.