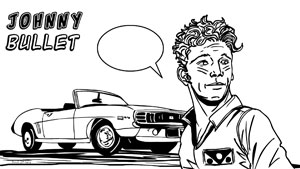 Comics News
Sidekick Kicks The Presses
By The Editor
April 16, 2007 - 23:07
Desperado Publishing is happy to announce that 2006's funniest limited series is now 2007's funniest conclusion. Fans of Paul Jenkins and Chris Moreno's Paul Jenkins' Sidekick five-issue limited series who have patiently waited for the jaw-dropping, gut-wrenching final issue need wait no longer. Paul Jenkins' Sidekick #5 is ready for print and should be in all fine comic shops shortly.

Paul Jenkins' Sidekick introduced Eddie Edison. By day, he is mild-mannered pizza delivery boy, Eddie Edison. By night, he is also mild-mannered Eddie Edison… who just happens to be the alter ego of the Mister Excellent's teenaged sidekick, Superior Boy. But the pay sucks. So Eddie settles upon an unlikely solution: he becomes a paid sidekick to three other superheroes, but soon finds out how hard it is to juggle the schedules of four super-powered morons.

Desperado Publishing President Joe Pruett said, "There are two things I want to say about this series: First off, this has got to be the funniest series to come out in the last decade. I found myself laughing aloud while reading each and every page of Sidekick. Paul's personality finally shines through in his writing with this one and Chris Moreno is the perfect choice to draw all crazed, insane stuff that Paul threw into his scripts. They're a match made in Heaven (well, maybe not Heaven)."

Pruett continues, "Secondly, I want the retailers and fans out there to know that the lateness of this final issue is not the fault of either Paul or Chris. They're professionals and conducted themselves as professionals. This final issue was unfortunately just caught up in production hell and in all the problems and hassles associated with a publishing company changing gears and walking away from a long-term relationship and starting anew on their own. Don't let the lateness of this fifth issue cause you to question if you should continue to support Paul and Chris with the new Sidekick projects they'll be releasing this June from our buddies over at 12 Gauge Comics and Image Comics. I, for one, can't wait to see what they come up with next!"

Paul Jenkins' Sidekick #5 will be shipping in May from Desperado Publishing and Image Comics. Paul Jenkins' Sidekick: Super Summer Sidekick Spectacular #1 and Paul Jenkins' Sidekick Vol. 1 TP will be on sale this June from 12 Gauge Comics and Image Comics.
© Copyright 2002-2019 by Toon Doctor Inc. - All rights Reserved. All other texts, images, characters and trademarks are copyright their respective owners. Use of material in this document (including reproduction, modification, distribution, electronic transmission or republication) without prior written permission is strictly prohibited.