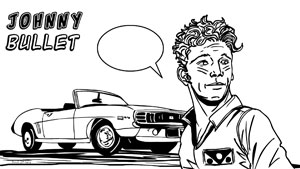 Comics News
New Artist On Moon Knight
By The Editor
March 27, 2007 - 21:57
In Moon Knight #9, writer Charlie Huston continues the story of Marc Spector returning to his life as the costumed avatar Moon Knight as he welcomes aboard artist Mico Suayan. Suayan joins the title just in time for the Punisher to drop by and Moon Knight's mysterious foe to finally reveal himself as "Midnight Sun" continues.

Moon Knight has proved to be one of Marvels hottest new series. Moon Knight #8 has sold out at Diamond and with issue #9 welcoming the stunning art of Mico Suayan, it seems the series won't cool down one bit.

In Moon Knight #9 Huston and Suayan continue "Midnight Sun" with Part 3: For the Occasion as Moon Knight is about to come face to face with a ghost from his past. But is he prepared for that meeting? The adversary that has taunted and baited Moon Knight is finally ready to take his adversary head-on. Armed with intimate knowledge of Marc Spector's moves as well as the psychological edge, Moon Knight will face his the fight of his life. And that's not even including his confrontation with the Punisher!
© Copyright 2002-2019 by Toon Doctor Inc. - All rights Reserved. All other texts, images, characters and trademarks are copyright their respective owners. Use of material in this document (including reproduction, modification, distribution, electronic transmission or republication) without prior written permission is strictly prohibited.