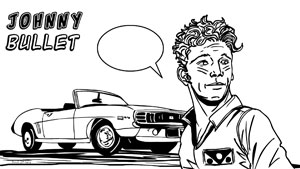 More Comics
Liz Allen's WILL YOU STILL LOVE ME IF I WET THE BED?
By Leroy Douresseaux
Jan 18, 2006 - 7:22
Publisher(s): Top Shelf Productions
Writer(s): Liz Prince
ISBN: 1-891830-72-4





Liz Prince's book is a tiny tome (3.9 x 5.9), a collection of single page vignettes, almost like daily comic strips. Part

Cathy

and

The Family Circus

by way of Jeffrey Brown, each one-pager focuses on the silly, inane, but poignant moments that, if they don't define a relationship, certainly flavor it. It's about the habits, the ticks, the personality quirks, etc. that sometimes hold a couple together. Between the work that maintains the relationship, there needs be time for fun. It's a girl comic that guys can like also.


© Copyright 2002-2018 by Toon Doctor Inc. - All rights Reserved. All other texts, images, characters and trademarks are copyright their respective owners. Use of material in this document (including reproduction, modification, distribution, electronic transmission or republication) without prior written permission is strictly prohibited.