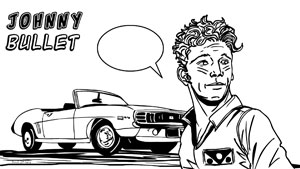 Press Releases
Japan Anime Music Lab. Has a New Website
By The Editor
April 1, 2018 - 21:52


JAPAN ANIME MUSIC LAB. WEBSITE CONTINUES TO BUILD AWARENESS FOR "ANI-SONG" CULTURE AND VIBRANT J-POP MUSIC ARTISTS



New JAMLAB. Site Launched By PROMIC Debuts At Anime Japan 2018 And Features Insightful Interview With Lantis Label President Shunji Inoue



PROMIC, the leading Japanese entertainment industry foundation to support the growth of Japanese music internationally, continues to build awareness for its recent launch of the Japan Anime Music Lab. (JAMLAB.).

Continued synergy between anime and Japanese music artists, who perform the theme songs to many top-rated series and feature films, has greatly expanded each genre's passionate fanbases, both across Japan and internationally.

In North America and Europe legions of followers in key markets in North American and Europe have embraced the "J-POP" phenomenon and scores of Western cites are now key stops for many Japanese music artists' live tour schedules.

The Japan Anime Music Lab. website (www.japan-animemusic.com) serves as an official information hub to connect international audiences and entertainment and music industry professionals with the top echelon of Japanese "ani-song" artists and their respective official representatives.

JAMLAB's booth and the new website were items of keen focus for fans and music and anime industry professionals recently at Anime Japan 2018, one of the industry's biggest annual conventions. JAMLAB also plans to participate and exhibit this summer at North America's most popular anime convention – Anime Expo – to bring further awareness about ani-song culture and Japanese music artists to U.S. fans. Details will be forthcoming.

Coinciding with Anime Japan 2018, the Japan Anime Music Lab. posted an exclusive interview with Shunji Inoue, President of Lantis Co., Ltd., the preeminent Tokyo-based record label specializing in "ani-song" artists as well as music from video games. Many Lantis recording artists are featured on the Japan Anime Music Lab. website. Lantis is also the sponsor and partner of Anime Expo's Anisong World Matsuri event, which has become a key attraction of the annual convention. The interview with Mr. Inoue is available HERE.

Japanese companies and record labels participating in JAMLAB. currently include AVEX, SACRA MUSIC (a Sony Music label), Lantis, King Record, Pony Canyon, Flying Dog, Yoshimoto Music Entertainment, For Life Music Entertainment, NBCUniversal Entertainment Japan, MAGES., Being, Nippon Columbia, Tokuma Japan Communications, and Toho Music.

Artists currently featured on the JAMLAB. website include: Maaya Sakamoto, Nana Mizuki, May'n, Ali Project, LiSA, JAM Project, Kalafina, EGOIST, ClariS, GARNiDELiA, Konomi Suzuki, fripSide, Nagi Yanagi, and Kanoko Ito.

News of additional participants preparing to join the Japan Anime Music Lab. will be announced soon.

About PROMIC
The Foundation for the Promotion of Music Industry and Culture (PROMIC) is a Japanese foundation created in 1993 to support the growth of Japanese music internationally and to promote international business relationships through music. The foundation is supported by the Japanese music industry and the main supporting members of the foundation are; major Japanese record labels and music trade bodies and associations representing; artists, performers, record labels, management companies, music publishers, concert promoters and music retailers. In 2017, PROMIC took on the international outbound promotional responsibilities of the Japanese recorded music organization and local IFPI national group, Recording Industry Association of Japan (RIAJ).

A key PROMIC annual project is the annual Tokyo International Music Market (TIMM), the largest Japanese international B-to-B music convention. The event is supported by the Ministry of Economy, Trade and Industry (METI) and the 14th edition was held in October, 2017 and was attended by more than 5,000 music industry executives, artists and other professionals from around the globe.



© Copyright 2002-2019 by Toon Doctor Inc. - All rights Reserved. All other texts, images, characters and trademarks are copyright their respective owners. Use of material in this document (including reproduction, modification, distribution, electronic transmission or republication) without prior written permission is strictly prohibited.